Music
ITZY's Summer Return: Refreshing Energy Erupts with New Single 'CAKE'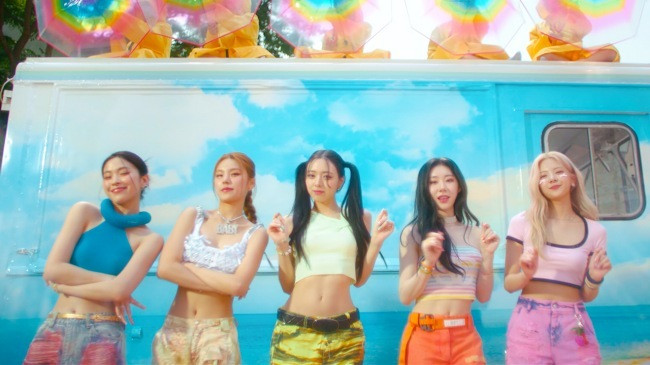 With their comeback just three days away, the group ITZY has further fueled anticipation by revealing additional teasers for their new song 'CAKE,' bursting with refreshing energy fit for the summer heat.
In the lead-up to the official release of their new mini-album 'KILL MY DOUBT' on July 31, ITZY has been unveiling various teaser contents on their official social media channels. After the initial unveiling of the 'CAKE' music video teaser on the 26th, a second teaser was posted at midnight on the 28th, stoking the comeback fervor to a fever pitch.
This music video teaser showcases ITZY's vibrant charm, sure to blow away the summer heat and bring a feel-good energy to viewers. The pastel-colored setting, the dazzling visuals of the five members, the addictive beat, and the cheerful sound work harmoniously to delight both eyes and ears. Yeji, Lia, Ryujin, Chaeryeong, and Yuna are seen in sporty red outfits, sitting on a conveyor belt, revealing a playful side and flashing bright smiles, thereby raising curiosity for the complete music video.
The title song 'CAKE' is the first collaboration between K-pop hit-maker Black Eyed Pilseung and ITZY, promising top-tier synergy for Summer 2023. Following in the footsteps of their energetic summer anthems like 'ICY,' 'Not Shy,' and 'SNEAKERS,' 'CAKE' is expected to carry the same heat and energy, fueling anticipation among K-pop fans. Through their new song, ITZY, known for consistently heating up the summer music scene as the 'Summer Queens,' will once again prove the winning formula of 'ITZY equals summer.'
For their first comeback of 2023, ITZY is carrying out a comprehensive promotional campaign, including the release of music videos for the title track 'CAKE' and the b-side tracks 'BET ON ME' and 'None of My Business.' The pop-up store 'ITZY 'KILL MY DOUBT' POP-UP STORE,' where fans can further enjoy the new release, will operate at The Hyundai Seoul in Yeongdeungpo-gu, Seoul until August 9th.
ITZY's new mini-album 'KILL MY DOUBT' and the title song 'CAKE' will be released worldwide simultaneously at 6 PM on the 31st. Following the release, they will meet fans both locally and internationally at an online and offline showcase at the SK Olympic Handball Gymnasium in Olympic Park, Seoul, at 8 PM.