Music
ITZY Unveils MV for New B-Side Track 'None of My Business': A Fresh Summer Look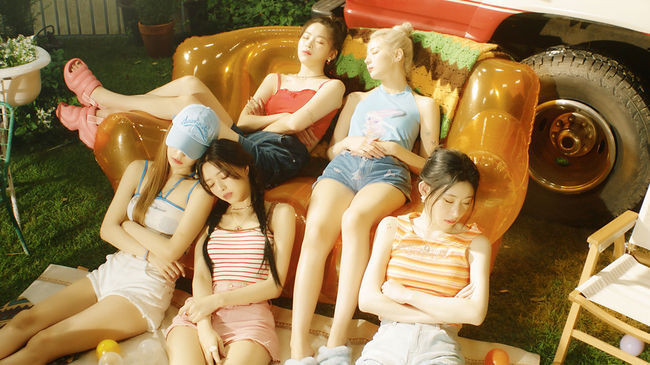 ITZY is making the final countdown to their comeback, having premiered the full music video for their latest B-side track "None of My Business".
Slated to release their new mini-album 'KILL MY DOUBT' and the title track "CAKE" on July 31, ITZY heated up their comeback by unveiling the music video for "None of My Business", the third track on the album, on July 24 at midnight.
The new song "None of My Business" is a pop track with a rhythmic sound, distinguished by powerful lyrics contrasting with a lyrical melody. The song cleverly uses the sticky summer heat to represent feelings towards someone who suffocates rather than excites you daily. The lyrics, contributed by ESRAN, who has previously worked on Taeyeon's "Happy", Twice Nayeon's "POP!", and NMIXX's "Party O'Clock", are drawing attention.
In the music video, Yeji, Lia, Ryujin, Chaeryeong, and Yuna revealed their refreshing visuals amidst a lazy summer landscape. The five members captivated the audience by showing their dreamy tones and hip dance moves under the blazing sun. Additionally, they enhanced anticipation for ITZY's comeback by expressing their youth's freedom with emotional looks.
ITZY's new mini-album "KILL MY DOUBT" expresses 'a solid belief and courage to shatter doubts about oneself' through six new songs including the title track "CAKE", "BET ON ME", "None of My Business", "Bratty", "Psychic Lover", and "Kill Shot".
The title track "CAKE" was written, composed, and arranged by Black Eyed Pilseung, who created hits like Twice's "OOH-AHH", "CHEER UP", "TT", "LIKEY". This collaboration between ITZY, the summer queen who has heated up the music industry every summer with hits like "ICY", "Not Shy", and "SNEAKERS", and hitmaker Black Eyed Pilseung promises to decorate the summer of 2023.
Meanwhile, ITZY's new album "KILL MY DOUBT" and the title track "CAKE" will be released worldwide at 6 p.m. on July 31. Subsequently, a showcase will be held at 8 p.m. at Seoul Olympic Park's SK Olympic Handball Gymnasium and will be simultaneously broadcast online, allowing ITZY to share their comeback joy with fans around the world.