Music
ITZY Exudes Cool Street Mood, 2023 Summer Song Anticipation Skyrockets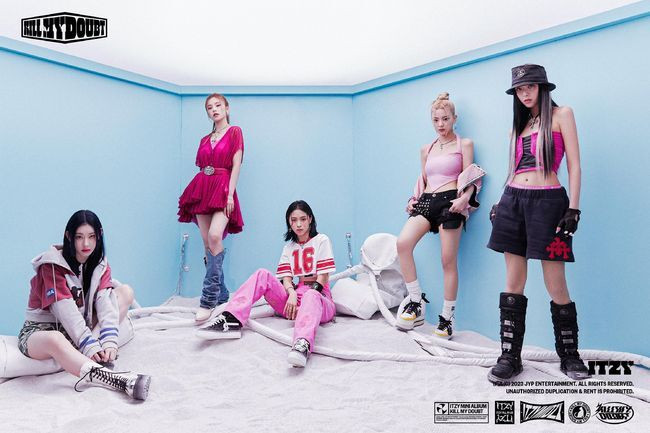 ITZY has radiated the aura of a summer queen with their cool, street style comeback visuals.
ITZY is progressively revealing teasing content for their upcoming mini album 'KILL MY DOUBT' and its title track 'CAKE,' which is set to release on July 31st. On the 12th, they unveiled the third concept clip and additional photos through their official SNS channel, further fueling the comeback atmosphere.
In the released photos, ITZY captures attention with their chic yet relaxed expressions and trendy atmosphere. Yeji, Lia, Ryujin, Chaeryeong, and Yuna perfectly pull off street fashion with pink points, their unique intense gazes exuding hip energy. The colorful concept clip, bursting with lively charm over the scattered sand, adds to the anticipation for the new album concept.
The new mini album 'KILL MY DOUBT' includes a total of 6 songs, starting with the title track 'CAKE,' followed by 'BET ON ME,' 'None of My Business,' 'Bratty,' 'Psychic Lover,' and 'Kill Shot.' The album's production quality was enhanced by a lineup of talented creators, including JYP Entertainment's representative producer Park Jin-young, popular lyricist Lee Ssran, Danke who worked on songs for TWICE and NMIXX, and Kang Eun-jung, who has collaborated with famous artists such as Taeyeon and Red Velvet. The new song 'CAKE' promises new synergy this summer, bringing together ITZY, which has established itself as the summer queen by releasing summer hits such as 'ICY,' 'Not Shy,' and 'SNEAKERS' each year, and 'hit song maker' Black Eyed Pilseung.
In celebration of their first comeback in 2023, ITZY has prepared abundant promotions, including the release of three music videos for the title track 'CAKE' and the album tracks 'BET ON ME' and 'None of My Business,' and the launch of a pop-up store. From July 27th to August 9th, they will open a pop-up store at The Hyundai Seoul in Yeongdeungpo-gu, Seoul, and will meet with fans at an offline showcase on July 31st at 8 PM, the day of the new album's release. The comeback showcase will be held for free at the SK Olympic Handball Gymnasium in Seoul Olympic Park, and details related to ticketing will be announced in sequence through ITZY's official SNS channels.
Meanwhile, ITZY's new mini album 'KILL MY DOUBT' and its title track 'CAKE,' which will fill the 2023 summer playlist, will be released simultaneously worldwide on July 31st at 6 PM.