Celebrity
EXO Group Reunites for Reality Show Filming Amid Legal Fray with SM Entertainment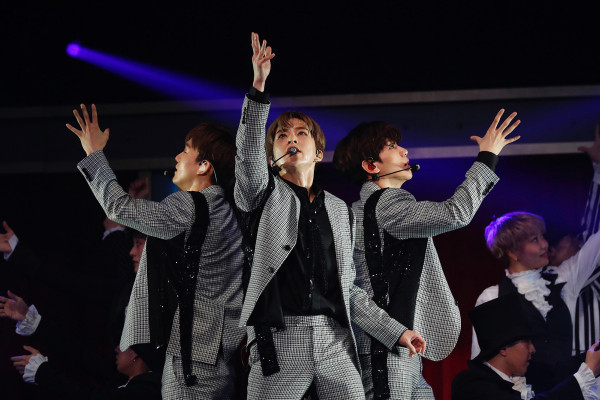 K-pop phenomenon EXO, excluding Kai who is currently on mandatory military service, was seen Thursday at Gimpo International Airport. They were reportedly convening for their group reality show's filming, unfolding amidst the ongoing court tussle involving Baekhyun, Xiumin, and Chen against their agency, SM Entertainment.
Despite sparse details about the destination of the EXO team, their agency, SM Entertainment, validated that the voyage was tied to the shooting of their long-awaited group reality show.
Photos and footage of EXO members Suho, Chanyeol, D.O., Baekhyun, Sehun, Xiumin, and Chen, taken at the airport by Korean media outlet Dispatch, began circulating when SM Entertainment revealed to Newsen the genuine purpose behind EXO's trip.
On June 1, SM Entertainment announced that despite the ongoing lawsuit involving EXO-CBX members, the group is slated to make a comeback this year and work on a new music video. The three involved members have since been waging a legal war against the agency, claiming transparency issues and unfair contract conditions, an accusation that the agency denies.
Despite the ongoing court proceedings, Baekhyun, Xiumin, and Chen have not halted their collaborative efforts with the remaining group members and the agency in anticipation of EXO's return.
On Monday, the trio reaffirmed their fans that they would never forsake their EXO brethren and would always prioritize them in any situation.
However, speculation remains about whether Lay, the group's Chinese member, will partake in the eagerly awaited EXO reunion.
The group's reality show debut harks back to 2013, with EXO being the maiden group to feature on the inaugural season of the South Korean reality show series "Showtime." The show, "EXO's Showtime," devised by MBC Plus Media, offered fans an inside look into the members' off-stage lives, broadcasting 12 episodes from November 2013 to February 2014.
For EXO's ardent fanbase, known collectively as EXO-L, it's been a week packed with successive news updates. Still, the sight of the group members together, despite the ongoing legal turmoil involving EXO-CBX, has ignited joy and excitement.
Among the chorus of fans' tweets, one said, "Amid the chaos, the most relieving thought today is EXO members are in the airport together. I am so happy." Another shared, "I feel like crying. I am crying. [There are] real tears in my right eye. I love you, EXO."
"I am thankful that the first update of [EXO] after the lawsuit was the whole group together," tweeted a relieved fan.