Fashion
LE SSERAFIM's Unique 'Bodyguard' Style Entrance Ignites 'Music Bank' Arrival Scene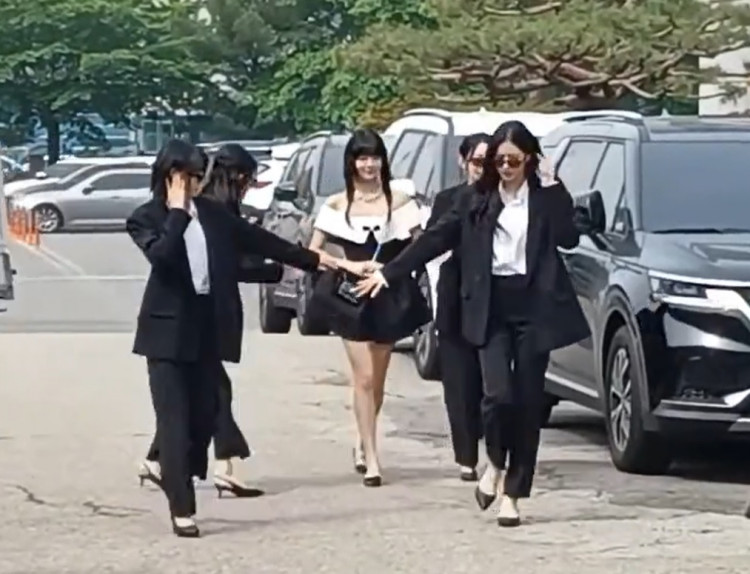 The group LE SSERAFIM (consisting of Kim Chaewon, Sakura, Hong Eun-chae, Heo Yun-jin, and Kazuha) crafted a unique arrival scene that brought laughter to their fans. LE SSERAFIM set out on their way to work on the morning of the 12th for the music program 'Music Bank' held at the KBS Annex in Yeouido, Seoul.
The 'Music Bank' arrival scene is a place not only for the press but also for fans to see their stars. As a result, the typically mundane commute has often become a hot topic, and many groups have started to attempt various concepts. LE SSERAFIM, too, aimed for a special commute to bring joy.
Hong Eun-chae, the youngest member and also the MC of 'Music Bank', dressed in a black mini dress and dazzling accessories. On the other hand, Kim Chaewon, Kazuha, Sakura, and Heo Yun-jin donned black suits and took on a bodyguard concept, protecting Eun-chae.
Not them acting like Eunchae's Bodyguards HAHAHAHA. They really cant filter themselves even in public naurr this is so funny jsjshsj #LE_SSERAFIM is a bunch of comedians istg pic.twitter.com/ygbK02mS7E — eunchae realm (@eunchaevhhh) May 12, 2023
As LE SSERAFIM made their entrance, they maintained their elegant and nonchalant expressions from the moment they walked until they struck poses. Meanwhile, Eun-chae enjoyed the concept perfectly, taking various poses with a bright and happy expression. The bodyguard concept was reportedly created through discussions among the members themselves.
le sserafim as manchae and her bodyguards pic.twitter.com/6lvRj2YV7g — eunchae global (@eunchaeglobal) May 12, 2023
Pictures from LE SSERAFIM's 'Music Bank' commute have been gaining attention as they spread across various online communities due to their unique concept. Netizens who saw this reacted with comments like "This is really fun," "Are they protecting a bank president?", and "It seems the older members really cherish their younger member."
In other news, LE SSERAFIM released their regular album 'UNFORGIVEN' on the 1st. The title track of the same name involved the participation of Nile Rodgers, a famous guitarist and producer from the United States, and it expresses their determination to break free from what they had to cautiously observe and follow their own path.