Music
A Fiery Battle: aespa vs. LE SSERAFIM - K-Pop Girl Groups Rewrite Records
The heat is on as K-pop girl groups aespa and LE SSERAFIM shatter records with their comebacks just a week apart.
LE SSERAFIM struck first with their debut full-length album 'UNFORGIVEN,' released on May 1. They broke the K-pop girl group record for first-day sales with over 1.02 million copies sold on the Hanteo Chart, surpassing BLACKPINK's previous record of 1.01 million copies with their second album 'The Album.'
However, aespa surpassed LE SSERAFIM's record just one week later. On May 8, they released their third mini-album 'MY WORLD,' breaking the first-day album sales record with 1.37 million copies sold on the Hanteo Chart.
'MY WORLD' had an impressive 1.8 million pre-orders, indicating that a new record for first-week sales (currently held by BLACKPINK's 'The Album' with 1.54 million copies) could be within reach. Industry attention is focused on the friendly competition between these two groups as they ascend to 'double million-seller' status.
While this competition is causing significant shifts in K-pop girl group rankings, the musical direction of these two groups diverges significantly.
aespa, who previously explored the virtual world 'KWANGYA,' has returned to reality with their new album. With 'MY WORLD,' the group has taken on a brighter and more youthful image. This new direction sets them apart from their previous work, which was heavily based on virtual reality and avatars. The title track 'Spicy' showcases the group's carefree and lovely charm, reminiscent of American high school movie protagonists.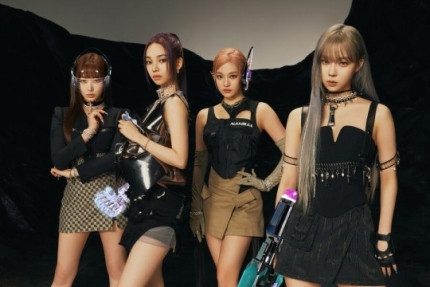 The group debuted with 'Black Mamba' and continued with intense, warrior-like tracks like 'Next Level,' 'Savage,' and 'Girls.' However, with the rise of powerful rookie girl groups like IVE and NEWJINS, aespa faced concerns about being trapped in their world of fierce styles and combat-like dances.
The group also had to endure a lengthy hiatus of 10 months due to the acquisition dispute within their agency, SM Entertainment. aespa, initially planned for a February 20 comeback, had to postpone their return due to the impact of SM's management dispute.
With the departure of former SM executive producer Lee Soo-man, aespa has confidently embraced a more accessible and clever world concept. During a press conference held on May 8, member Winter said, "We had a lot of pent-up emotions from telling dark and profound stories through our title tracks. We want to release those emotions with 'Spicy.'"
Ningning also expressed confidence in their new direction, saying, "I'm not afraid of trying new things." The group announced plans for a solo concert at Tokyo Dome and the release of a full-length album. With their escape from KWANGYA, global fans have high expectations for aespa's expanded musical spectrum.
Insistent on 'Identity', Le Sserafim Faces Controversy Over Similar Concepts and Similarity, a 'Homework'
Le Sserafim, the first girl group under HYBE and widely known as the "little sister" group of BTS, has been rapidly growing by establishing a unique and differentiated territory from other girl groups. With the full support of CEO Bang Si-hyuk, Le SeraPhim has released a full-length album just a year after their debut.
Their title track "Unforgiven" carries a rare and powerful message of "solidarity in adversity" for a girl group title song. In fact, not just this new song, but also their debut song "Fearless" and the title track of their second mini-album "Antifragile" have consistently expressed confidence and pride in walking their own path, undaunted by adversity and unconcerned with others' judgments.
Le Sserafim has particularly gained attention for their toned muscles and healthy beauty rather than the typical slender figures and pretty appearances, showcasing new charm through their powerful choreography and mischievous expressions. Additionally, their latest album expands from the self-driven "I" shown in "Fearless" and "Antifragile" to an inclusive "we," setting them apart from other girl groups.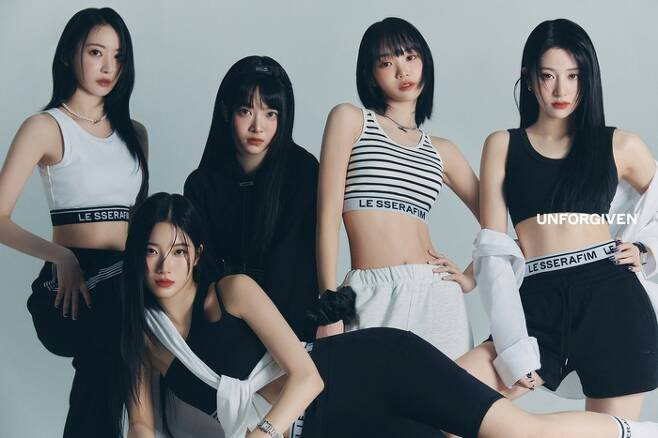 However, a controversy follows Le Sserafim: similarities with foreign artists. The title track's "killing part," the lyrics "Unforgiven, I'm a villain, I'm a villain, I'm a," has been criticized for its similarity to the singing style and rhythm of Spanish singer Rosalía's "Chicken Teriyaki."
"Chicken Teriyaki" has previously been compared to Le SeraPhim's "Antifragile" for similarities in music and choreography. In response, leader Kim Chaewon stated, "Le Sserafim's songs and concepts are our unique creations that contain our stories and messages."
Nevertheless, the recurring controversy over similarity is inevitably damaging for a group that emphasizes identity. Aside from the controversial section of "Unforgiven," the overall song is perceived as bland compared to the strong message it conveys.
Some have expressed boredom with the similar music and concepts. Unlike aespa, who switched to a high-teen concept for a change, critics argue that Le SeraPhim, despite releasing a full-length album, needs to try new musical endeavors as they have presented a similar image, narrative, and concept.
Notably, many of Le Sserafim's B-side tracks, such as "Eve, Psyche, Bluebeard's Wife," "Burn the Bridge," and "Fire in the Valley," feature challenging compositions, rhythms, and genres, increasing disappointment over the title track's criticism.
An industry insider commented, "Album sales figures don't directly represent public appeal. As the 4th generation girl groups are all reaching the million-seller level, the battle from now on is who can gain public appeal," adding, "Having changed the tide of K-pop with confidence and self-love, it's time to show their diverse music and growth."