Music
Le Sserafim Conquers: Triple Crown on Oricon Weekly Ranking and Korean Music Shows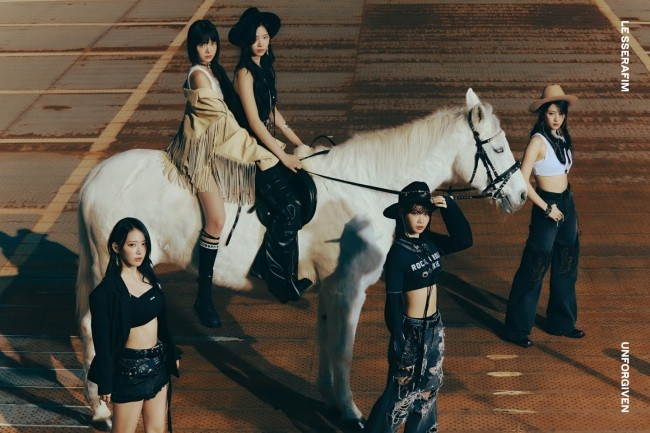 The group Le Sserafim has achieved a triple crown on both the Oricon weekly ranking and music shows.
According to the latest ranking (as of May 15th) announced by Japan's Oricon today (12th), Le Sserafim's (Kim Chaewon, Sakura, Heo Yunjin, Kazaha, Hong Eun Chae) first full-length album 'UNFORGIVEN' topped the weekly album ranking with 97,383 points. With this, Le Sserafim has claimed the top spot for the third consecutive time following their debut album 'FEARLESS' and their second mini-album 'ANTIFRAGILE.'
Previously, Le Sserafim announced that 'UNFORGIVEN' had topped both the weekly album ranking and the weekly digital album ranking. By securing the top spot in the weekly album ranking, they dominated three categories of the Oricon weekly ranking with their first full-length album.
Local media highlighted, "Le Sserafim is the first foreign female artist of the year to win a triple crown on the Oricon weekly ranking." Le Sserafim has achieved notable success overseas within just a year of their debut, demonstrating their status as 'K-pop top players.'
Additionally, Le Sserafim won the first-place trophy for their new song 'UNFORGIVEN (feat. Nile Rodgers)' on Mnet's 'M Countdown,' which aired on May 11th. After previously ranking first on SBS M's 'The Show' and MBC M's 'Show! Champion,' the members expressed their gratitude for their third music show win, "It's Le Sserafim's first 'M Countdown' win. We've prepared a lot for this promotion, and we're grateful for the love we've received. Please continue to watch our future activities."
Le Sserafim's Spotify 'monthly listeners' (number of listeners in the last 28 days) surpassed 10 million as of May 9th, setting a new personal record. Their new song 'UNFORGIVEN (feat. Nile Rodgers)' has entered the global 'Daily Top Songs' for 10 consecutive days (from May 1st to 10th) since its release, proving their worldwide popularity.