Celebrity
BTS Jin to J-Hope: 'I Endure Military Life Watching You; Long Way to Go for Leave'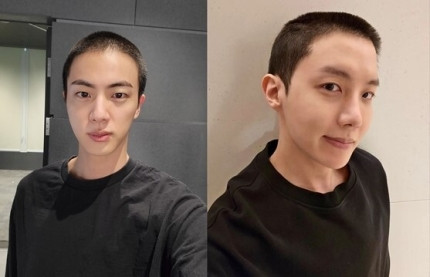 BTS Jin (30) expressed his concern and empathy for fellow group member J-Hope (29), who is also serving in the military like him.
On May 5th, a fan expressed their longing for J-Hope, who had enlisted in the military, in a post on the fan community Weverse. Jin responded with a comment, starting with, "How's it going, J-Hope?"
In his comment, Jin asked about J-Hope's wellbeing as a trainee soldier: "Are you getting rained on? Are you using the PX? Have you gained weight? Are you unable to call because you're being cautious?"
He continued with a touch of humor, "Did you receive the letter I sent? Are you injured anywhere? Did you shave the other friends' heads? There's still a long way to go before you can take a leave. The food there must be good."
Jin then conveyed his heartfelt thoughts, saying, "I endure my military life watching you. Make sure you do the same for the next friend; it gives great strength during military life."
Jin and J-Hope, who debuted as BTS in 2013, are loved as representatives of the K-pop scene. Jin was the first BTS member to enlist in the military in December last year, while J-Hope enlisted on April 18th.