Music
BTS Jimin Shatters Records with 'FACE': Fastest K-Pop Solo Album to Reach 400 Million Streams on Spotify
BTS' Jimin is setting the world on fire with his first solo album 'FACE' released 10 years after his debut.
Jimin's 'FACE' has reached 400 million streams on Spotify, the world's largest music platform, in just 41 days. This achievement has broken the previous K-pop solo artist record of 90 days, making it the fastest in Spotify's history.
The 'FACE' album hit 100 million streams in just 5 days, breaking the record for the fastest K-pop solo album to reach this milestone. It then continued to break records, reaching 200 million streams in 14 days, 300 million in 26 days, and finally, 400 million in 41 days, establishing new benchmarks in K-pop history.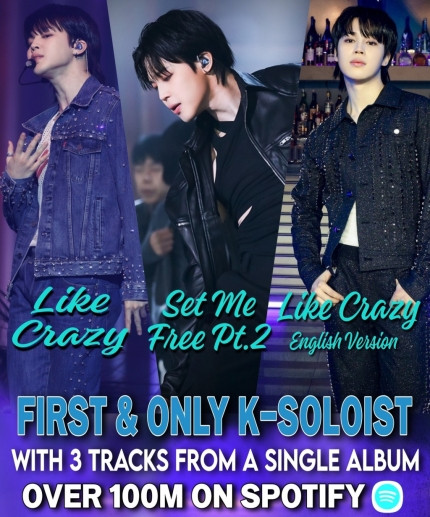 A closer look at the album's performance reveals that the title track 'Like Crazy,' which debuted at No. 1 on Billboard's Hot 100 chart, has accumulated over 228.5 million streams (120 million for the original and 108 million for the English version), 'Set Me Free Pt.2' has 122.46 million, 'Face-off' has 27.54 million, 'Alone' has 24.25 million, and 'Interlude: Dive' has 18.19 million. The six tracks together have surpassed a total of 410 million streams.
Additionally, Jimin's English version of 'Like Crazy' reached 100 million streams in 41 days, setting the record for the fastest Korean solo artist's B-side track to achieve this milestone on Spotify. With this, Jimin became the first and only Korean solo artist to hold three songs with over 100 million streams within a single album.
Following Billboard's report, American entertainment media outlet Clout News highlighted Jimin's historical achievement, sayingthat BTS' Jimin has written history. The first K-pop solo album 'FACE' to have three songs reach 100 million streams. The media outlet quickly reported that Jimin's 'FACE' album was a successful solo debut, and he became the first K-pop solo artist to top both the Billboard Hot 100 and Spotify Global charts.
The outlet praised that Jimin's 'FACE' showcases his talent and passion as a solo artist, achieving remarkable results.
They added that Jimin has written history with his debut solo album, proving himself to be a versatile and influential musician. He has also inspired millions of fans worldwide with his message of hope and freedom.
Meanwhile, Jimin is currently holding the record for the longest-charting K-pop solo artist on Spotify's Global Artist chart for 50 days. His 'FACE' album's phenomenal popularity is a testament to his undeniable status as a 'K-pop frontman.'