Celebrity
BTS: Leader RM Talks About 2022 Grammy Loss Saying Why To Give A S**T About It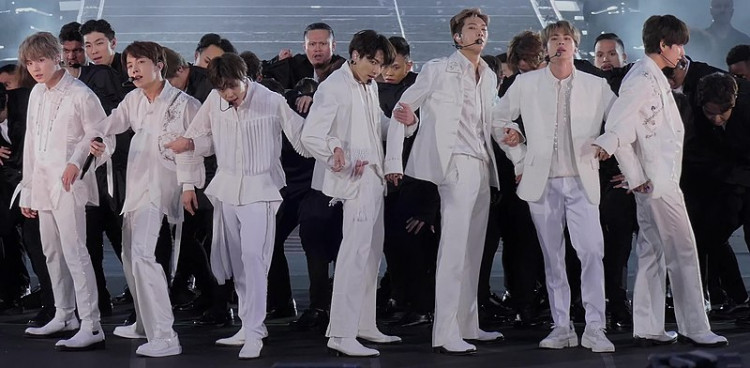 The Bangtan Boys recently completed the first part of their "Permission to Dance On Stage" Las Vegas concerts on Saturday, April 9.
During the course of the two-and-a-half-hour-long concert, the K-pop group's leader RM took a brief moment to address the band's loss at the recently concluded 2022 Grammy Awards.
Namjoon used the platform to remind the fans in attendance, why BTS flew down to Las Vegas in the first place. The South Korean singer said that he knew there was a lot of noise out there about the Grammys and BTS itself, but why give a s**t about it.
RM was seen making the statement on videos captured by fans attending the concert that has been shared online on YouTube and social media platforms.
The artist further added that hating is their freedom, and they have the right to hate, but if it was up to him, he would rather just talk with his friends in some cafe where he could forget about it rather than give some interview or tweeting about it. RM said he would not do that as he is a grown-up.
The leader of the Bangtan Boys also said that the group did not come to Vegas for the Grammys, but rather to focus on their fans. He added that the trophies, accomplishments, titles, and records are really important but that was not the first main reason why BTS started all these things.
Rather, it was the two hours of communication, dancing together, singing along, eye to eye, energy, and community with the ARMY was what constituted everything and that is why BTS is doing all this and hoped that the fans knew that. Namjoon also said that let the haters hate and let the lovers love.
The K-pop megastars were nominated for their second Grammy award this year in the category of best pop duo/group performance for "Butter", their 2021 hit single that spent a total of 20 weeks on the Billboard Hot 100 chart. They were on the No. 1 spot for 10 of those weeks.
The Princes of Pop lost the award to Doja Cat and SZA for their collaborative song "Kiss Me More". However, they won the night by putting the best performance of this year's award ceremony.
Meanwhile, you can watch the video of RM addressing the crowd here.
"let the haters hate. let the lovers love"- kim namjoon pic.twitter.com/lJzQWzw7EO — ⁷ already misses bts (@joontro94) April 9, 2022