Awards
BTS At 2022 Grammy Awards: V Flirting With Olivia Rodrigo To Lady Gaga Kissing Him, 5 Things That Have Gone Viral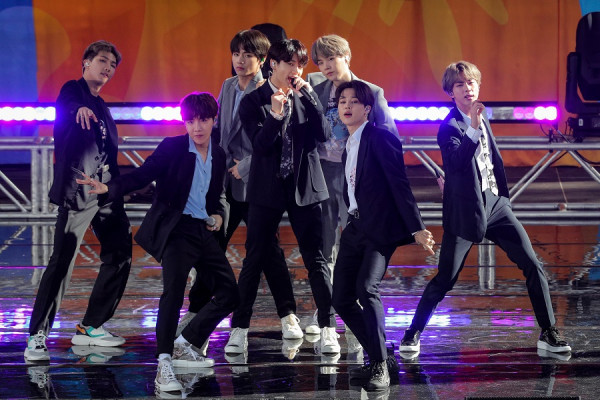 BTS made quite the style statement on the red carpet in Louis Vuitton statement outfits at the 64th Grammy Awards. The ceremony took at the MGM Grand Garden Arena in Las Vegas, US on April 3, local time,
When BTS is around, things always go viral, and Grammy's night was no different. Here is a round-up of all the things that happened, which is taking the BTS ARMY by frenzy.
1) V Flirted With Olivia Rodrigo
In the 2022 Grammy's most viral moments, Kim Taehyung was caught on camera sharing a sweet-flirty moment with Olivia Rodrigo.
V was seen whispering something into the American singer-songwriter's ears, drawing a visible gasp from her, while also showing her what looked like a calling card.
However, soon it was clear that the whole incident was staged and it was a part of the Bangtan Boys' live performance of "Butter" on the Grammy stage.
2) James-Bonds-Meets-Ethan-Hunt Style Smooth Performance Of "Butter"
BTS's performance was among the most awaited and anticipated ones of the night, and the seven not only delivered but also stole the show, ensuring theirs was the best stage performance of the 2022 Grammy Awards stage.
No mission was too impossible for the megastars as the men in black channeled Ethan Hunt and James Bond's vibes while dropping down from the ceiling, evading laser beams, to doing intricate choreography with their jackets.
3) BTS Spoke About Dream Collaborations
During a red carpet interview, the K-pop idols revealed who they want to collaborate with in the future. After a few seconds of thinking, SUGA was first to answer and named Lady Gaga, J-Hope said J. Balvin, RM took Snoop Dogg's name, and V mentioned Olivia Rodrigo.
4) V Got A Hug And Kiss From Lady Gaga
The "Poker Face" singer, looking graceful in a blue ensemble, was photographed with V. The K-pop mega idol was seen approaching the Oscar-Grammy award winner for a photo and was not only greeted with a warm hug but also a sweet kiss on the cheek. The photos of the sweet interaction have since then gone viral.
5) V Caught Smoking On Camera
V's backstage smoking pictures from the award ceremony have gone viral on the internet. The singer was reportedly smoking an e-cigarette.
The leaked pictures have not been taken kindly by fans, who are defending their beloved idol, and said that if someone is posting photos of V smoking, then they are not the real ARMY.