Celebrity
K-Pop Idol Chuu Of LOONA Has Reportedly Filed Lawsuit Against Agency To Suspend Contract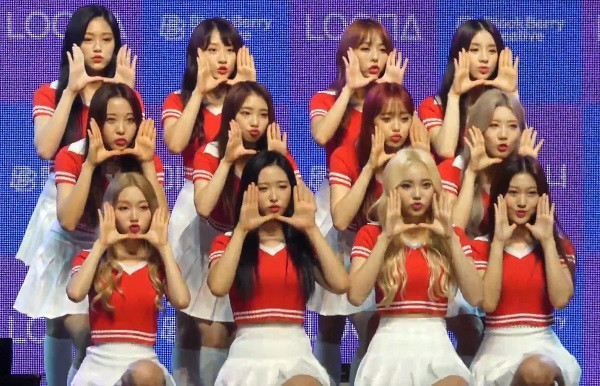 South Korean singer Chuu of K-pop girls' group LOONA has filed a lawsuit against her agency, according to recent reports.
A Wikitree report has pointed out that Chuu is embroiled in a legal dispute with Blockberry Creative, her agency, to suspend her contract and is experiencing a conflict.
Chuu had reportedly filed a lawsuit for suspending her exclusive contract against Blockberry Creative in December of 2021. The singer supposedly received partial court approval and she could be given a preliminary injunction, indicating that her contract will be suspended for preventing further harm until a final ruling is issued by the court.
At the moment, Blockberry Creative has not released any official statement related to the reports doing the rounds regarding the legal dispute between them and Chuu.
It should be noted that at present, apart from the report by Wikitree, no other sources have either confirmed or denied the rumors regarding the singer's legal dispute with her agency. Hence, there is no substantial evidence for concluding that Chuu is leaving LOONA and her agency.
Chuu had made her debut with K-pop girls' group LOONA, as their 10th member in 2017. In addition to being a talented singer, Chuu earned a lot of praise for her charm and smile during her various appearance in numerous entertainment programs.
The singer also showed her extraordinary popularity by being chosen as an advertising model for scores of brands including cards, ramen, smart jelly, cosmetics, and beverages.
LOONA comprises 12 members including Olivia Hye, Gowon, Yves, Choerry, Jinsol, Kim Lip, Vivi, Yeojin, Hasul, Hyunjin, Heejin, and of course Chuu.
The group made its full debut with "Hi High" in 2018 and went on to release numerous global hits such as "PTT (Paint The Town)", "Why Not?", "So What", and "Butterfly".
LOONA is also slated to make an appearance on Mnet's "Queendom Season 2", which will be broadcast for the first time on March 31.
Despite the rumored legal dispute, Chuu is supposedly participating in the recent recording of the program along with her other fellow band members. She was, however, absent from LOONA's February 2022 concert "LOONAVERSE: FROM".
According to fans of LOONA, known collectively as the Orbits, the incident does not mean that Chuu is leaving the label. Rather, the change in her contract means that the distribution rights would likely be more favorable to her since she is really in demand and signed for multiple individual appearances. The news also comes after another rumor last year that Blockberry was bankrupt and had not made payments to its staff for months.