Celebrity
BTS's Jin Is Winning Hearts and Topping Charts With 'Jirisan' OST Song 'Yours'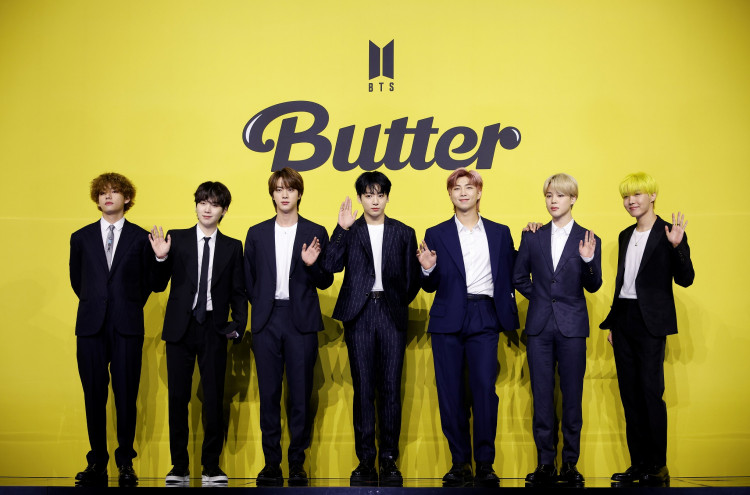 BTS member Jin has just made a 2021 record for Korean pop solo vocalists with his new song as the OST of television Series "Jirisan".
The oldest member of BTS launched the solo song "Yours" on November 7 at 6:30 PM KST. The highly-anticipated track, which features Joo Ji Hoon and Jun Ji Hyun's new drama "Jirisan" soared to the top of iTunes charts in various countries all over the globe immediately after its release.
The song already hit the No. 1 spot on iTunes Top Songs charts by 4:30 AM KST on November 8 in at least 82 different countries, including the US, UK, UAE, Sweden, Thailand, Russia, Norway, Mexico, Italy, Malaysia, Indonesia, Canada, Brazil, Australia, Germany, France, Japan, the Philippines and more, which set a new record for K-pop solo songs released this year.
A special video of the track was also dropped, which featured a montage of Jirisan's clips. The video combines scenes from the drama to showcase the beautiful relationship between the lead pair. The tvN show centers around mountain rangers, who get embroiled in the mysteries that surround Mount Jiri. "Yours" has been written by JIDA and Gaemi.
The release of the track was met with a thunderous response. The Army flooded social media and online communities, heaping one after another praise for the song. Fans said that Jin's voice is heavenly and feels like a warm hug, while others called the track the OST of the year.
The sound of "Yours" is like a ballad talking about lost love. The song highlights the vocal versatility of Jin and his control on impressive high notes. It tells the story of a lover desperately going through various emotions as he waits for the return of his precious partner.
BTS members have released various individual singles in the past to raving reviews from fans. V's popular OST for "Itaewon Class" called "Sweet Night" became the most streamed Korean OSt, though it was promoted limitedly. While, Jimin was recently credited for his song "Friends", which is the OST for 2021 Marvel Film "Eternals".
In the meantime, BTS has also recently teased that they are working on a potential new album. The news was shared by members RM, Suga, and Jungkook in the last episode of "In The Soop". The official details for the album are yet to be shared by the K-pop supergroup.
You can watch the special video of "Yours" here. (Yibada News)