Music
BTS 2022 Season's Greetings Package: Where Is Jin In Big Hit Music's Teaser?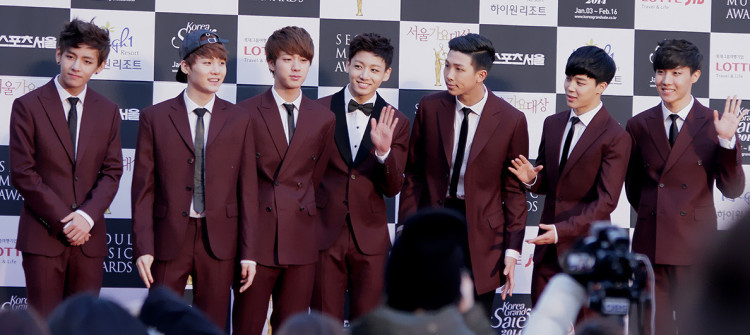 (Business Times) - BTS has officially announced the coming of their 2022 Season's Greetings package. Big Hit Music drops a major teaser of the group's snaps to tease fans of what is about to come, but where is Jin?
BTS's official Twitter page shares a preview cut of Jin, Suga, J-Hope, RM, V, Jimin and Jungkook. It also posts a group chat via SNS, along with a WeVerse link that has more preview images for the app's subscribers.
However, though the SNS preview images have seven individual cuts, fans notice SUGA has two, while Jin has none. They also see that the package's preview footage has no solo scene of V, AllKpop noted.
As 24 hours have already passed and Big Hit Music is yet to correct the error, ARMY cannot help but take the matter into their own hands. It is now calling out the music label and making the hashtag #BTSIs7, #WhereIsJin and #WhereIsTaehyung trend on Twitter.
Anyhow, knowing how ARMY works, it has seen the preview cut of Jin. Just like Suga, J-Hope, RM, V, Jimin and Jungkook, he looks incredibly perfect.
to bighitさん
ソクジンを入れてUPしてください。
7人のメンバー入れる事がそんなに難しいことですかね?
これがJINじゃないメンバーだったとしても不自然で不快です。 pic.twitter.com/syMV5BfE0M - ほっぺ (@yyy0492sss) November 2, 2021
Meanwhile, BTS officially announced the release of their 2022 Season's Greetings package. The group has been releasing this merch every December to celebrate the coming New Year, per Elite Daily.
It usually comes with a DVD, desk calendar, planner, and several more exciting goodies, per Elite Daily. This season, it will be the perfect Christmas gift for fans.
The global hitmakers have been changing their concept every year and this time, it will be like no other. For starters, they donned pastel-colored outfits in 2019, followed by a mix of polo shirts, jeans and sweaters in 2020.
In 2021, they chose to have a retro look to match the success of their single, "Dynamite." For 2022, Jin, Suga, J-Hope, RM, V, Jimin and Jungkook will be turning themselves into villains with a theme, "Star Turned Villain."
In the first teaser the group dropped, the boys donned different looks, inspired by their "imaginative theme." RM turns himself into a mad scientist, while Jin looks like a shadow hacker.
Sugar chooses to be a grey pianist, while J-Hope appears to be a mystic strategist. In addition, Jimin opts to be an alley cat, while V is a fate reader and Jungkook is an action-taker.
In the second preview, the "Butter" singers reveal their inner rockstar selves with their badass outfits. Sadly, it will still take more than a month before fans can get their hands on BTS's 2022 Season's Greetings package that will be out on Thursday, Dec. 9.