Celebrity
BLACKPINK 5th Anniversary 2021: Lisa, Jennie, Jisoo, Rosé Made This Bold Move While Making 'DDU DU DDU DU' Music Video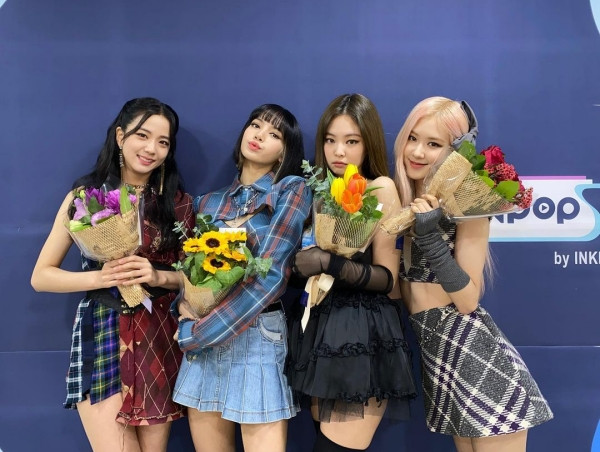 BLACKPINK is now celebrating their fifth anniversary in the entertainment business and they are doing it with a lot of revelations. At the recent "V Live" session, Jisoo, Jennie, Rosé, and Lisa revealed that one famous point dance in "DDU DU DDU DU" was, actually, not part of the original choreography.
BLACKPINK Lisa, Jennie, Jisoo And Rosé Improvised A 'DDU DU DDU DU' Dance Step
BLACKPINK has one of the most easily-followed dance moves and many try to imitate them. The gun-shooting move in the "DDU DU DDU DU" chorus may be the easiest step fans can re-create. But, did you know it is not supposed to be there?
In their "V Live" episode, via All KPop, Jennie revealed the girls had to hold their hands out, with palms down flat and moved it from left to right in the original choreography. However, they decided to change the dance step into a much-interesting one during the shooting of the song's music video.
Jisoo explained they first tried the original move to see how it would go because they were afraid to get into trouble if they would change it on their own. Thankfully, the outcome was positive and everybody loved it.
Though it was only a small detail, it could never be denied that it was a major part of the song. As expected, fans praised the girls for making the bold move.
One follower revealed she could not believe BLACKPINK decided to make their own move during the music video production. Another one described their idea as brilliant.
A BLINK member stressed that, if not for the gun-shooting dance, the "DDU DU DDU DU" choreography might be bland. Anyhow, a netizen admitted Jisoo, Jennie, Rosé and Lisa looked cute in the original choreography.
Lisa, Jennie, Jisoo And Rosé Released 'BLACKPINK: The Movie'
Meanwhile, the "How You Like That" hitmakers officially dropped the "BLACKPINK: The Movie" in South Korea on Aug. 4 in celebration of their fifth anniversary. Now, Manila Bulletin reported it was placed ninth on the weekend box office.
The Korean Film Council revealed the movie sold 5,240 tickets and now grossed $62,483 from Aug. 6 to 8. It also recorded earnings of $134,412 with 11,761 tickets sold from Aug. 4 to 9.
The movie featured different segments, like "The Room of Memories," which revealed everything the girls did in their five years in the entertainment business since they debuted in 2016. It also included "Beauty," which showed the four members' distinct characteristics.
Moreover, it also had the "Exclusive Interviews," as Jisoo, Jennie, Rosé and Lisa gave some messages to their fans. Of course, it also included their concert performances.
BLACKPINK began to put everyone in awe when they first dropped their debut album, "Square One," featuring the songs "Whistle" and "Boombayah," on Aug. 8, 2016. (Business TImes)