Music
BTS Celebrates Their 10th Anniversary with the Heartfelt Single 'Take Two' - An Eternal Youth Together with ARMY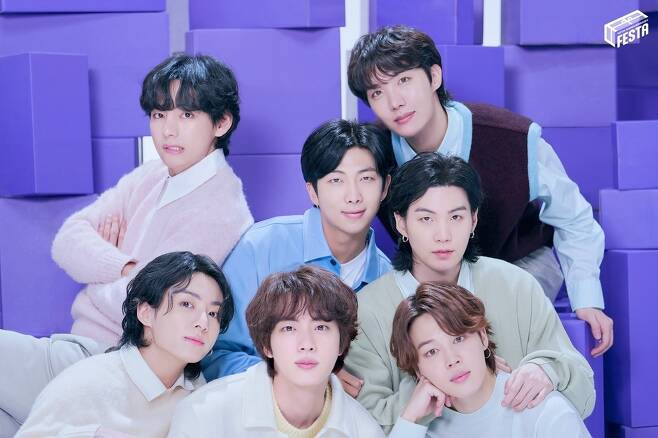 The phenomenal K-pop group BTS (comprising members RM, Jin, Suga, J-Hope, Jimin, V, and Jungkook) has expressed their heartfelt gratitude towards their fanbase, the ARMY, in celebration of their 10th anniversary.
BTS released their new digital single "Take Two" across various domestic and international music platforms on June 9th, at 1 PM KST.
This latest single is the group's first song as a complete unit after a year since their album 'Proof' was announced on June 10th of the previous year.
Commemorating their much-awaited 10th anniversary since their debut on June 13th, 2013, the seven members have soberly reflected upon their journey with the ARMY through the second chapter, signified by 'Take Two.' They encapsulated not just reminiscences but also their unwavering commitment and aspirations for the second act with ARMY.
The main production of the new song was handled by member Suga. The leader RM and member J-Hope also contributed to the song, enhancing its overall quality. The track beautifully combines a cozy acoustic sound with the members' melodic vocals and rap.
Expressing gratitude for the overwhelming love, BTS promised to write the upcoming second act for the ARMY, stating, "It was possible and happy with you. Thank you for the love that felt overly significant."
The 10-year journey may have brought changes, but as long as they have each other, BTS and the ARMY represent an eternal youth. The lyrics, "Together, we're young forever," recall their 2016 album 'The Most Beautiful Moment in Life: Young Forever' and its track 'EPILOGUE: Young Forever.'
With their new song 'Take Two,' BTS is still dreaming of eternity, singing, "Even the desert becomes a sea, and we swim forever. Even the whale that used to be lonely is now singing together. Because we're together, it's not scary to wish for eternity. Because my faith is you, and you're the only reason."
The desert and sea mentioned in the lyrics have been shared spaces within the musical universe of BTS and their fans since the group's debut. These spaces reflect the trials and hopes they've experienced together, with the realization that the world they had dreamed of was more like a desert than a sea.
This sentiment is also connected to a moment from the BTS concert '2017 BTS LIVE TRILOGY EPISODE Ⅲ THE WINGS TOUR THE FINAL' held in December 2017 at Gocheok Sky Dome in Seoul. The audience of over 20,000 fans held banners stating, "With us together, even a desert becomes a sea," promising to stay with BTS in the future.
To commemorate their 10th anniversary, BTS has presented their fans with another musical gift and plans to roll out various events for the 2023 BTS FESTA. An event titled 'BTS 10th Anniversary FESTA @ Yeouido' will be held on June 17th at the Yeouido Han River Park in Seoul. Apart from various exhibitions and experience programs, leader RM will also host a corner for communication with fans titled '5 PM, this is Kim Namjoon.'