Music
Red Velvet Concludes European Tour with Triumph in London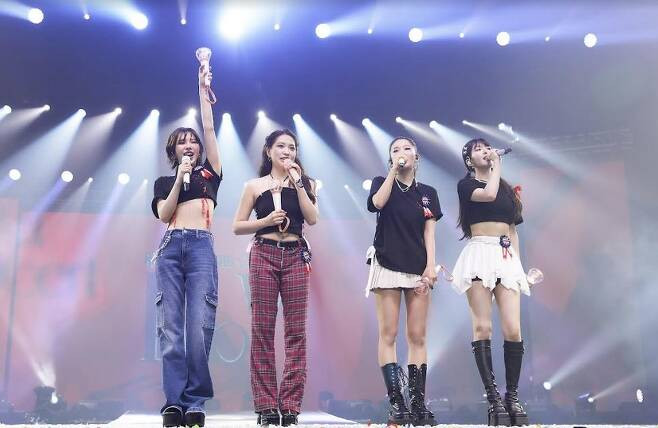 Girl group Red Velvet successfully wrapped up their first European tour in London on June 6th, their agency SM Entertainment announced on June 8th.
Starting last month in Paris, France, Red Velvet traveled to Berlin, Germany, Amsterdam, Netherlands, and finally London, UK, meeting with fans in each city.
The group performed a series of their hit songs including 'Feel My Rhythm', 'Ice Cream Cake', and 'Red Flavor'.
Reflecting on their tour, the members shared, "Every performance was a joyful moment. Knowing that so many people are enjoying it with us gave us strength," adding that "it will be an unforgettable memory."
In other news, singer Sean raised and delivered a donation of 425 million won for the improvement of war veterans' residences through a 6.6 km walkathon he conducted with 1,000 participants in remembrance of Memorial Day on June 6th.
This event was part of the 'Honor House' campaign for the improvement of living conditions for veterans of the 6/25 War, commemorating the 70th anniversary of the armistice agreement. The donation will be used to improve the living environment of veterans, who are on average in their 80s and 90s.
Elsewhere, group MCND heated up South America with their first world tour 'WORLD ADVENTURE 2023', starting in Brazil and continuing in Chile, Colombia, and Ecuador, according to their agency TOP Media.
MCND performed their debut song 'ICE AGE', along with 'Move', 'Nanana', 'Red Sun', and others. The agency reported that the audience responded enthusiastically with Korean sing-alongs and cheers.
They will continue their tour in Panama and Mexico.
Lastly, group ENHYPEN released the music video for 'Sacrifice', the follow-up song to their fourth mini-album 'DARK BLOOD', according to their agency BELIFT LAB.
'Sacrifice' is an alternative R&B song with a refined and sexy atmosphere, conveying a story of awakening one's fate and pledging sacrifice after seeing a loved one who has forgotten themselves.
ENHYPEN grabbed attention by showcasing impressive group dance in the music video for the song.