Movies
Blackpink Jennie Shines in Controversial Scenes in HBO's 'The Idol'; Critics Take Aim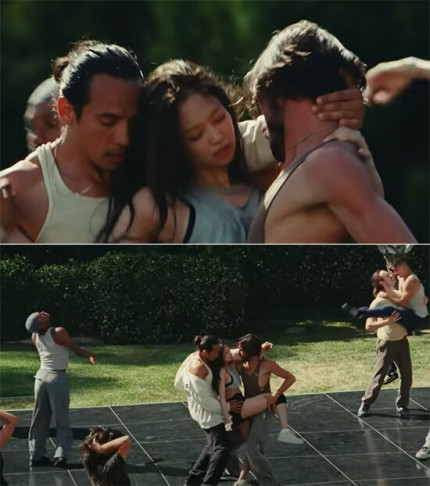 Blackpink's Jennie, the renowned K-pop star, unveiled her acting chops as HBO's drama "The Idol" premiered in North America.
"The Idol" broadcasted its first episode on June 5, creating significant buzz in May when it was unusually invited to the Cannes Film Festival's non-competitive section as a drama series. However, the series has been engulfed by criticism since the screening of its first two episodes at the festival, raising concerns about Jennie's appearance in the series amid critiques on its provocative plot and mature content.
The inaugural episode, premiered in the U.S., captivated viewers with its groundbreaking scenes. Alongside the lead actress, Lily-Rose Depp, Jennie, who plays the friend and dancer of Depp's character, displayed striking dance moves in closely choreographed scenes with male dancers during a music video shoot.
While Jennie committed to her role with passionate gestures and expressions in the music video scenes, the radical dance in a non-concert setting came across as somewhat jarring to some viewers.
"The Idol," marking Jennie's acting debut, is a drama that delves into relationships surrounding an emerging pop idol and the world of the music industry. The series stars Lily-Rose Depp, the daughter of actor Johnny Depp, with the Canadian pop superstar The Weeknd handling production. Moreover, Sam Levinson, acclaimed for the HBO series "Euphoria," took the reins as the director.
Jennie is cast as Diane, a friend and backup dancer of the protagonist, Jocelyn, portrayed by Lily-Rose Depp.
Despite possessing top-notch buzz and popularity, encompassing producers, directors, and lead actors, the series has sparked concerns due to critiques suggesting its quality is not living up to its hype.
American media outlet Variety lambasted the series as appearing "like a lurid male fantasy," while Rolling Stone criticized it as a "horrible, brutal, and much worse than expected drama that gazes at young female stars with a predatory eye."
However, with just the first episode of a six-part series revealed, it seems necessary to reserve judgment until the unfolding of the narrative and direction is further assessed.