Music
BTS's Jin Takes First Place in Shazam's 'Global Weekly Top 10 Artists' Again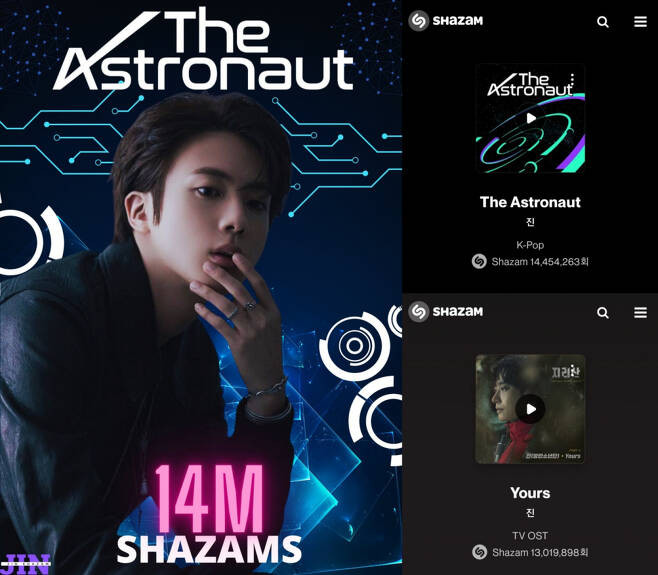 BTS's Jin once again ascended to the top spot on the world's largest music search platform, Shazam, demonstrating his unique 'Shazam King' prowess.
On May 26th, Jin seized first place in Shazam's 'Global Weekly Top 10 Artists' chart, marking his 22nd time at the top. This accomplishment makes Jin the first and longest-reigning K-pop artist on the chart, and the only K-pop solo artist to have reached this milestone.
Jin also set a new record for the most wins in 2023, securing first place nine times out of the fourteen 'Global Weekly Top 10 Artists' announcements so far. Since his solo OST 'Yours' debuted in the top 10 in May last year, he has continued his popularity with 'The Astronaut', charting a total of 41 times. Out of those, 40 times were within the top 3, setting the longest charting record by any K-pop artist.
The only K-pop artists to have taken first place on Shazam's 'Global Weekly Top 10 Artists' chart are BTS and Jin himself. Jin is unique in having achieved this distinction as both a solo artist and a member of a group.
'The Astronaut' took the number one spot on Shazam's 'Global TOP 200' chart on May 11th, boasting a total of 103 days at the top. This surpasses the previous record of 102 days held by 'Yours', making 'The Astronaut' the K-pop song with the longest reign at number one and setting a new personal best for Jin. As of May 26th, 'The Astronaut' has held the top spot for 118 days, including a current streak of 95 days in 2023, maintaining its 'longest reigning number one of 2023' record.
'The Astronaut' was released as a gift to fans before Jin's enlistment and immediately achieved explosive popularity, achieving remarkable records. It broke 100,000 Shazams in the shortest time of any K-pop release in 2022, just 25 hours after its release. It was also the first 2022 K-pop song to reach 1 million Shazams within 12 days. Within 24 days, it recorded 2 million Shazams, making it the first and highest number of Shazams for a K-pop song released in 2022. It further proved its incredible music power by reaching 5 million Shazams in 65 days, a first for K-pop.
'Yours' was the first K-pop song to achieve 12 million Shazams, and 'The Astronaut' surpassed 14 million Shazams on May 20th, making Jin the first and only K-pop artist to have two songs achieve over 12 million Shazams.
As of 4 AM on May 27th, 'The Astronaut' has surpassed 14.45 million Shazams, and 'Yours' has surpassed 13.01 million Shazams, both continuing to increase at a rapid pace.
Jin has proven his strong brand power and global popularity, debuting in music charts around the world with both 'Yours' and 'The Astronaut', overshadowing any concerns about his military service.