Awards
IU Grateful for Fans' Love and Dedication: 'I Love You, UAENA' as She Wins the 'TikTok Popularity Award'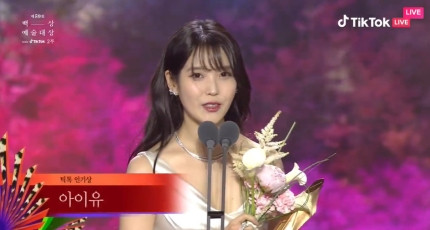 IU has won the "TikTok Popularity Award."
On April 28, the 59th Baeksang Arts Awards ceremony took place at the Paradise City Hotel in Incheon, hosted by Shin Dong-yeob, Suzy, and Park Bo-gum.
On this day, the winners of the 'TikTok Popularity Award,' which is determined by fans' votes, were announced. IU and Park Jin-young took home the award.
IU expressed her affection for her fans, saying, "I know that the Popularity Award is determined by our fans, who vote tirelessly day and night, even cutting back on sleep. I'm very grateful to our UAENA (fandom name) who voted so passionately."
She also expressed her gratitude to the Baeksang Arts Awards for inviting her to each event, saying, "I'm currently filming a drama and the movie 'Dream' has been released and is in theaters. I hope you show a lot of interest. I love my fans." She mentioned the drama 'Fooled in the Sweet Trap,' in which she stars alongside Park Bo-gum, and the currently screening movie 'Dream' directed by Lee Byung-hun.
The Baeksang Arts Awards is a comprehensive arts awards ceremony encompassing TV, film, and theater. The nominees and works were selected based on content provided on terrestrial, generalist, cable, OTT, and web platforms, or works released domestically between April 1, 2022, and March 31, 2023.