Awards
Tang Wei Wins Best Actress at the 59th Baeksang Arts Awards: 'A Mysterious Connection Brings Me Back After 12 Years'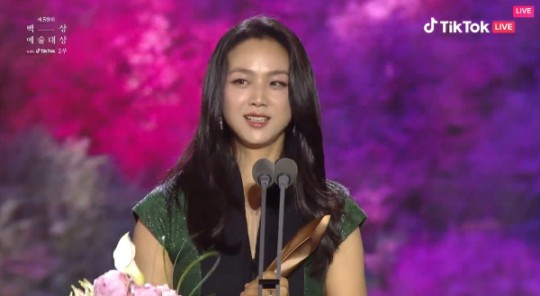 Actress Tang Wei has won the Best Actress award at the 59th Baeksang Arts Awards.
The 59th Baeksang Arts Awards took place on April 28 at Paradise City Hotel in Incheon. The MCs for the event were TV personality Shin Dong-yup, singer-actress Suzy, and actor Park Bo-gum.
Tang Wei, who was named the winner of the Best Actress award for her role in "Decision to Leave," expressed her feelings in Chinese. She said, "I came to the Baeksang Arts Awards in 2011 for a movie called 'Late Autumn.' I'm back again in the same Year of the Rabbit, and I think it's a mysterious connection that I've been invited here for my participation in two Korean films. It's a great honor."
Tang Wei expressed her gratitude to all the filmmakers in Korea, the Korean audience, and fans, and did not forget to mention director Park Chan-wook.