Awards
Song Hye-kyo Wins Best Actress Award: 'Thankful for Entrusting Me with Moon Dong-eun'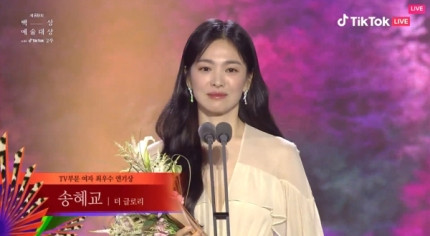 Actress Song Hye-kyo won the Best Actress Award at the 59th Baeksang Arts Awards.
The 59th Baeksang Arts Awards were held on the afternoon of the 28th at Paradise City Hotel in Incheon. The event was hosted by TV personality Shin Dong-yup, singer-actress Suzy, and actor Park Bo-gum.
The nominees for the Best Actress Award in the TV category included Kim Ji-won ('My Liberation Diary'), Kim Hye-soo ('Swoop'), Park Eun-bin ('Strange Lawyer Woo Young-woo'), Song Hye-kyo ('The Glory'), and Suzy ('Anna').
Upon taking the stage, Song Hye-kyo playfully said, "I won the award, Yeon-jin! I'm so excited right now," mimicking a line from 'The Glory' and drawing laughter from the audience.
Song Hye-kyo continued, "I really wanted (to win this award). I remember every single person on 'The Glory' production team. Without them, there wouldn't have been Moon Dong-eun. I am grateful to the wonderful actors who worked with me, the director who filled in Moon Dong-eun's shortcomings, and the fans."
She also mentioned her 2016 collaboration with writer Kim Eun-sook on 'Descendants of the Sun', saying, "I worked with writer Kim Eun-sook on two projects, and both received immense love."
Song Hye-kyo added, "Working with Kim Eun-sook is an honor for me. I'm so grateful for entrusting me with Moon Dong-eun. Although acting was difficult and painful at times, it made me want to work even harder in the future."