Awards
Lee Eun-ji Tearfully Accepts Best Female Entertainer Award: 'I've Always Regretted After Filming...'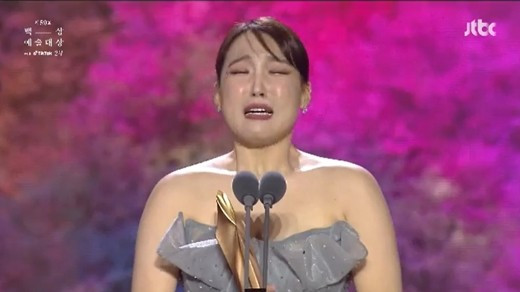 Comedienne Lee Eun-ji has claimed the honor of Best Female Entertainer in the TV category.
The 59th Baeksang Arts Awards were held on April 28 at Paradise City in Incheon, hosted by comedian Shin Dong-yup, singer-actress Suzy, and actor Park Bo-gum.
Lee Eun-ji took home the Best Female Entertainer award in the TV category. The nominees included Kim Min-kyung, Park Se-mi, Lee Su-ji, Lee Eun-ji, and Joo Hyun-young.
With tears, Lee Eun-ji said, "I've never thought 'I did well today, I delivered my lines well, I'm really satisfied' after finishing filming a variety show. I've had more nights regretting 'Why did I do that then? I shouldn't have said that, I should've stayed still.' I'm grateful for receiving this award, but at the same time, I feel embarrassed."
She continued, "As the seniors in front of me may know better, there's nothing you can do alone in variety shows. I feel like I received this award because there are so many people, including colleagues and juniors, who accept me, support me, laugh and cry with me, dance with me, and react to give me strength when I'm exhausted. I will never take this award lightly. I'll use it as good nourishment for the pain, sadness, and tough days in life."
As she shed tears, Lee Eun-ji exclaimed, "Many people tell me they're grateful for being able to laugh because of me these days, but I'm more grateful for their words of thanks!"