Celebrity
SUGA Says Purple Is Not Officially BTS's Color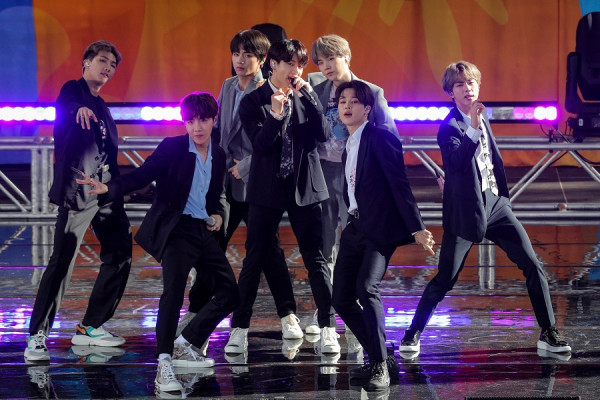 The Bangtan Boys recently gave their opinion on the debate about whether purple is the band's color.
The love between BTS and their fans, the ARMY, has been represented by the color purple for years. In fact, band member Kim Taehyung aka V had said in a speech during a fan signing event that the word "Borahae", which combines the words bora (purple) and saranghae (to love), is an expression that refers to trust the other person forever and that they will both love each other until the end, just like the color purple's meaning, which is basically the last shade of the rainbow.
"Borahae" is now among the many expressions that the ARMY uses to express their love for their favorite idols as well as for each other. The color purple has helped to establish and strengthen the bond between the Bangtan Boys and the ARMY, which is why people have also started to call it the BTS color.
Recently, the ARMY had a debate whether Big Hit Music, which is the K-pop band's management agency and label, should copyright the expression of "borahae" or not. Fans took the discussion to various online communities and social media platforms including Twitter. However, the agency informed them that they had filed for copyright and it had been rejected, and one of the reasons was that the expression was created by TaeTae and that if anyone should have copyright then it should only be him.
Now, in the most recent episode of "Run BTS", posted on the official YouTube channel of BTS called BANGTANTV, Jungkook was seen asking if the room he was in was specifically set for the band after noticing that the studio's aerial yoga equipment was purple. The golden maknae of the group exclaimed that the team had matched it to purple. It is then the leader of the band RM said that it is a kind of illness that whenever any of them sees the color purple, they automatically think it is connected to them, but they have not paid for the copyright of purple.
Jin quickly reminded Jungkook that the world has so many purple-colored things, and SUGA added that Purple was not theirs! Soon some fans started to clarify SUGA's statement by saying that the artist was simply reminding the other band members that the color purple is not copyrighted officially with BTS but there is no denying the deep connection both the band and fans have with it.