Celebrity
BTS V, BLACKPINK Jennie Dating Rumors: New Photos Captioned 'You're My Other Half' From Alleged Date Leaked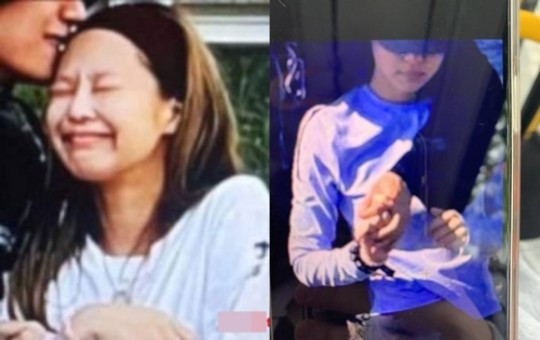 Seems like the limelight on BTS Kim Taehyung 'V' and BLACKPINK Jennie is not going to move away soon. The two megastars, both of whom belong to the biggest two K-pop groups ever respectively, have been rumored to be dating for over a year.
The pictures of the duo from their dates on Jeju Island went viral in the recent past after supposedly being leaked. The two were supposedly photographed while traveling together in a vehicle.
Since then there has been no stopping the rumor mills and all the constant buzzing about the two, with the biggest question being, are they dating or are they not?
While the LEAKED photos took the world wide web and media outlets by storm, with fandoms of both the stars asking for legal action against those who were behind the alleged leaked captures, for releasing private photos with the couple's consent, others believe that the photos are edited.
Now to add more fuel to the already roaring fire, more photos of V and Jennie have gone viral on the world wide web. The new photos apparently show the "pair" dining together in a restaurant in South Korea's Gangha-myeon in the Gyeonggi province.
While one photo shows V peeping into the restaurant from the outside, another shows him and Jennie taking a selfie, where only half of their bodies are visible. Apparently, the caption on the photo read "You're my other half".
According to the various Korean media reports, the person who leaked the pictures made the claim that the date pics were shared by either V or Jennie on a private account.
Recently, a video also made the rounds where TaeTae and Jennie were seen dancing closely together. The video was said to be from the exclusive party by BLACKPINK after the launch of "Born Pink", the band's new album on September 14. The two icons seemed to be enjoying their private time together at the party.
With quite a few leaked photos doing the rounds, showing V and Jennie in close proximity, it is making it difficult for both the ARMY and BLINKS to not believe that the two giants are dating. However, neither the two huge stars nor their respective management companies, namely Big Hit Music and YG Entertainment, have released any statements making any clarifications so far.
Meanwhile, speculations have ruffled up and put the whole global K-pop fandom into a tizzy.