Celebrity
BTS V, BLACKPINK Jennie Dating Rumors: HYBE, YG Would Have Taken Legal Action If Photos Were Fake, Photo Leaker Claims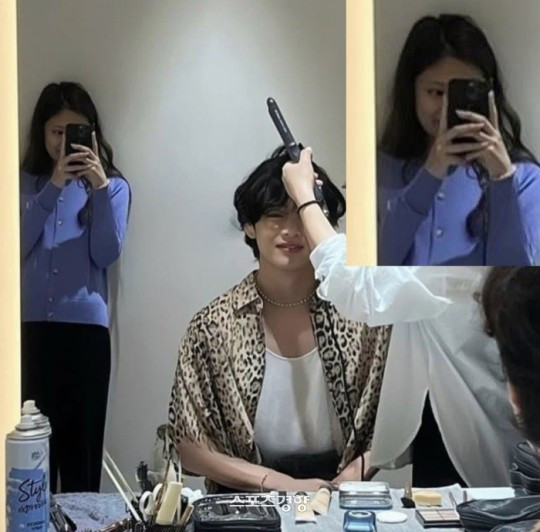 The Twitter user, namely gurumiharibo, recently said that the respective agencies of both BTS and BLACKPINK would have taken legal action by now if the photos being leaked were edited.
The internet has been rife with rumors of two of the biggest K-pop idols dating, namely Kim Taehyung of BTS and Jennie of BLACKPINK. Articles about the so-called "pair" have been dominating various online communities and posts on the world wide web and social media platforms.
It has been noticed that Both HYBE and YG Entertainment have been completely silent about the ever-spiraling rumors, which are growing by the day.
Now the person who leaked the photos in the first place has stated that they sent numerous messages to Jennie, however she did not reply. According to the photo leaker, they contacted the two people soon after seeing the photos. When questioned how they managed to obtain the pictures, the person said there was a very huge hint in the last tweet they had posted before their Twitter account was suspended. According to the leaker, only a few people knew this.
The leaker also claimed that the pictures were not photoshopped or edited by them, they just added a watermark and did nothing else to alter the photos. The person who leaked the photos also stated that if the pictures were indeed edited by them, then v, Jennie, or their legal representatives should contact them and file a complaint.
The person, who went by the username gurumiharibo on Twitter, also said that if anyone thinks that they have done something wrong enough to be arrested then to tell Big Hit Music or YG Entertainment to get them arrested.
Many netizens now feel that the two global stars are indeed dating as the silence from YG and HYBE speaks volumes. They are also of the opinion that so much attention should not be given to the person leaking the photos, as they are probably using the whole procedure as a sort of blackmail to get a payout.
The rumors related to TaeTae and Jennie first gained momentum in May this year, when an alleged photo of the two stars was first circulated. Apparently, the picture was captured on Jeju Island, where V and Jennie were seen sitting inside a car and driving around.