Celebrity
BTS V, BLACKPINK Jennie Dating Rumors: Furious ARMY & BLINKS Slam Big Hit, YG Entertainment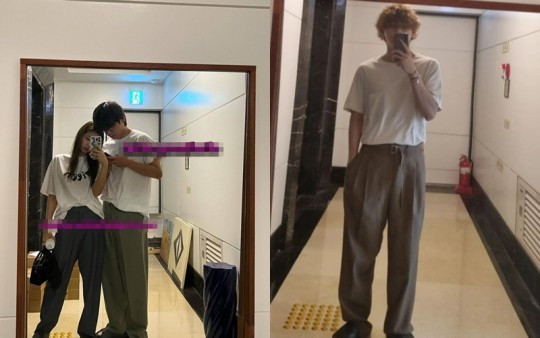 The fandoms of both BTS and BLACKPINK are quite furious right now, with the rising rumors that V and Jennie are dating. The ARMY and BLINKS have taken online communities and social media platforms by storm after photos of the rumored pair have gone viral on the Internet and going on being circulated by the media.
The fans are collectively also expressing their anger against the labels of both the mega K-pop groups, BTS and BLACKPINK managed by HYBE and YG Entertainment respectively.
According to the fandoms, the reaction of both labels to the rumors is passive. The dating rumors related to two of the biggest K-pop stars ever have been spreading like a wildfire for quite some time now.
Every day, alleged new pictures of V and Jennie dating go viral. Meanwhile, the Twitter user who leaked TaeTae and Jennie's photos has claimed they have pictures where the two idols are hugging and kissing.
The last leaked photo allegedly showed Kim Taehyung and Jennie in matching Winnie the Pooh bear t-shirts, posing next to each other in an elevator.
Incidentally, the rumor mills have been buzzing since May this year when the so-called "pair" was seen driving around in a car together on Jeju Island. However, the rumors fizzled out when fans said the photos were edited and photoshopped.
But, since then, more photos of the two megastars started doing the rounds online after being leaked by a Twitter user called gurumiharibo. One photo showed Jennie snapping a picture of Taehyung in a waiting room, while another showed the two global stars taking a photo at TaeTae's house.
With more pictures being leaked, many netizens believe that Jennie's iCloud account could have been hacked, enabling the Twitter user to access her personal photos.
Since the rumors gained momentum and additional pictures were released online, netizens are debating the credibility of the photos and questioning whether they are photoshopped or not.
However, more and more people have started to buy V and Jennie's dating rumors with the released number of photos of the duo increasing in the count. In addition, the Twitter user has said that they will continue to release more photos of the alleged pair.
For now, netizens are questioning the motive of the Twitter user for leaking the photos and are wondering if they are doing it for money or attention.