Celebrity
BTS Kim Taehyung V's Vogue Korea Cover Photo Creates Frenzy Among Fans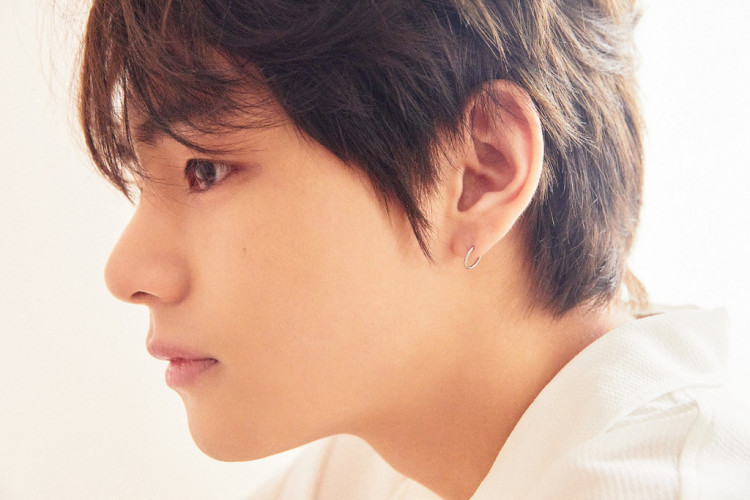 BTS V has created a storm among his with his surprise Vogue Korea pictorial from Vogue Korea. The megastar, whose real name is Kim Taehyung, has graced the cover page for the October issue of Vogue Korea.
After quite a lot of fan speculations, the magazine has finally dropped a set of cover photoshoots, which feature TaeTae looking the epitome of grace, and style, with a good dose of flamboyance.
The magazine revealed a total of three photos on Instagram captioning them as "Surprise". In one V is seen looking softly at the camera, sporting an all-white look, with the backdrop set in the outdoors.
In another image, he is seen in a pose depicting him waiting outside a bedroom, wearing a V-neck shirt in white paired with a black blazer while leaning against a pillar. The last picture is a close-up shot of Taehyung making direct eye contact with the camera while biting down on the locket of a gold necklace.
Many members of the official BTS fandom, known as the ARMY, took to online communities and social media platforms to trend the hashtag
#TAEHYUNGxVOGUE.
Fans had started speculating about the photo shoot as early as August 27 after Vogue's fashion director posted an Instagram Stories update giving a hint about a likely photoshoot with a member of BTS.
The fashion director also shared a sneak peek of the styling reference, but deleted the post later, which led to more speculations. Later, on September 4, the editor-in-chief of Vogue Korea and other associates gave confirmation to the rumors with a look at TaeTae's upcoming photoshoot.
A couple of days later, the first preview of the pictorial featuring V was released, and they also gave the confirmation for the schedule for the cover, describing it as something that people would remember for ages. It was also followed up with a throwback interview given by TaeTae.
Vogue Korea will next release a film teaser of the globally loved superstar on September 16 as per their pictorial schedule of the pictorial.
BTS, which comprises seven members namely V, Jungkook, Jimin, Jin, SUGA, J-Hope, and RM are all concentrating on their solo projects right now. The band will be reuniting soon for their upcoming concert in Busan, which will be a free event, on October 15 to promote the World Expo 2030.