Celebrity
BTS: J-Hope Promotes New Album On K-Pop Soloist IU's Palette Show, Latter Complains About Not Getting Hobi's Party Invitation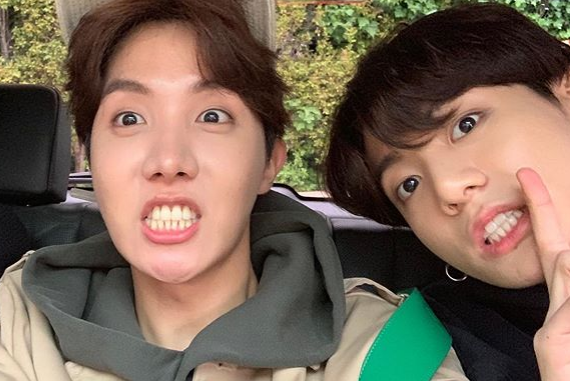 BTS rapper just promoted his newly released solo album "Jack In The Box" on the show of another K-pop superstar, singer IU.
The show, called "IU's Palette", had Hobi over much to the surprise and excitement of both the artists' respective fandoms as it was a collaboration they never saw coming.
South Korean singer-songwriter IU and J-Hope started on a slightly shy note on the show, after which both got quite comfortable as they started to talk about Hobi's new album.
IU also thanked J-Hope for choosing her show to promote his music, while the latter praised the former by mentioning that she was doing an amazing job promoting other artists and their music. Both the artists also performed on various songs from the album while also discussing the music.
On a more amusing note, IU asked Hobi why he did not invite her to the pre-release party for "Jack in The Box". The question left the BTS rapper visibly speechless and he had no idea how to answer, so he said that he had really wanted to invite her but did not understand how to go about it.
Interestingly, the ARMY is also talking about one more thing apart from both the artists being at one place, it is about guessing the reaction to the whole deal by golden maknae of BTS, Jungkook. It is well known that the 24-year-old singer really likes IU and is a fanboy. She is his inspiration and celebrity crush and he has expressed his admiration numerable times.
Meanwhile, "Jack In The Box", which dropped a couple of days ago, comprises 10 songs with the lead single "More". The tracklist also includes "Music Box: Reflection", "Pandora's Box", "What If...", "Future", "Arson", "Safety Zone", "= (Equal Sign)", and "Stop" aside from the "Intro".
J-Hope is currently in Chicago, USA, where he is getting ready for the upcoming music festival Lollapalooza where he will headline a show on Sunday, July 31.
During the show, Hobi talked about his Lollapalooza appearance and informed him that he was going to perform around 16 to 17 songs. Further, the whole show by him will be about an hour-long act. The BTS singer also shared that it was a new experience that he was looking forward to, especially because everyone will get to see a side of his that was not there before.