Celebrity
BTS: J-Hope Drops Spooky 'Jack in the Box' Teaser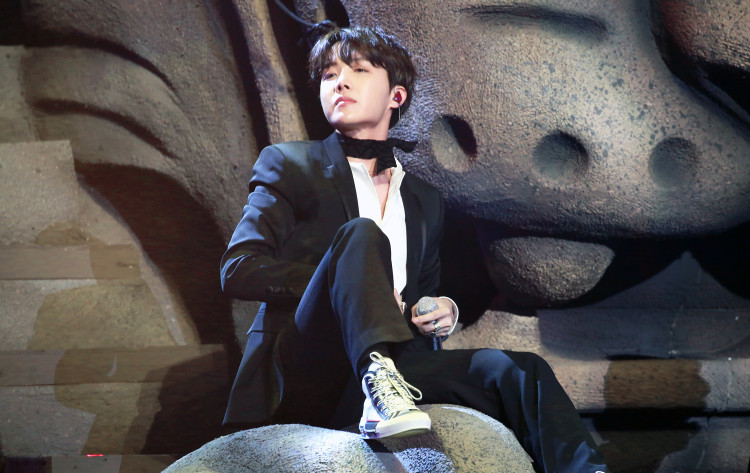 BTS member and rapper J-Hope has dropped an eerie new teaser for "Jack in the Box", his upcoming debut solo album.
The 23-second long snippet, titled "Hope in the Box, shows a sinister melody accompanying the visual of a jack-in-the-box cranking itself over. the static of the TV screen lights up the whole picturization. Next, the jack-in-the-box is shown springing from its hiding place, while in the background the sounds of drums are heard.
Hobi posted the clip on his personal Instagram handle and captioned the clip "Are you just going to stay in the box?". He also added the hashtag HopeInTheBox.
The popular rapper also gave a hint behind the title's concept and meaning. The caption also mentioned that only one thing was left in the box, which was Hope. It links the famous Greek mythology of Pandora's box to Hobi's stage name.
"Jack in the Box" is going to have a July 15 release through Big Hit Music. The teaser clip is a quick follow-up to the release of "More", the upcoming album's lead single that dropped on July 1. The music video for "More" gave the proper look into the slightly eerie concept of Hobi's solo era. He is seen dressed in a black jumpsuit and wearing a joker's cap. The rapper is shown creating havoc in the nondescript, dull backdrop of an office.
Incidentally, the Grammy Awards listed "Jack In the Box," in its 10 Must-Hear Albums in July 2022. Hobi shared the spotlight with Beyonce, Burna Boy, and Lizzo.
The Grammy Awards called Hobi an original and bright performer who would show the world his own craft as a solo artist. They also said that the singer has already made headlines by being the first South Korean artist to headline a major music festival of the USA, the Lollapalooza, which is going to be held later this month.
In related news, Jack in the Box, the fast-food chain has jumped in to support Hobi's solo album andto celebrate its release by giving an offer to diners to have a free Sprite in medium size with any purchase on their app. Incidentally, it is a personal favorite of the singer.
Meanwhile, Hobi set new records with his pre-release track "More" hitting the No.1 spot on iTunes song charts in 85 nations after the release. The South Korean superstar also earned the highest-charting debut on Spotify by a Korean soloist in the history of the platform's Global Top Artists chart.