Celebrity
BTS's Jungkook, NCT, ENHYPEN, MONSTA X Attend Seventeen's Concert In Seoul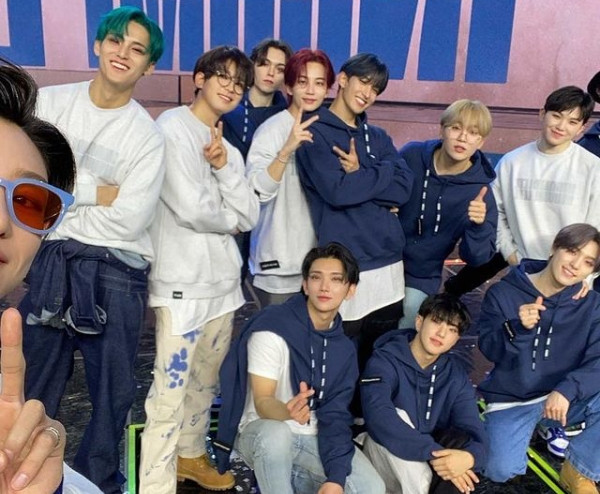 K-pop group Seventeen's recent concert in Seoul was a star-studded affair, in addition to being a roaring event. The band made more than 35,000 fans go into a frenzy over two nights from June 25-26.
The show was also high on stardom with BTS's golden maknae Jungkook, members of NCT, ENHYPEN, and MONSTA X, as well as Lee Soo Hyuk, Girls' Generation's Taeyeon, SHINee's Key, attending the show on the second day of the Seoul concert.
Seventeen also conducted a simultaneous live stream of the offline concert to greet their global fans. The band brought the essence of a K-pop concert experience back to Seoul's Gocheok Sky Dome with their "Seventeen World Tour [Be the sun] - Seoul" concert.
The 13-piece act was the largest offline concert held in Korea since the COVID-19 pandemic took over the world. The ban on standing and chanting in concert halls was only lifted in April this year in South Korea.
The set of songs featured 24 pieces that were led by "Hot", "March", and "Hit", all of which were smoothly choreographed. The band showcased their versatility with impressive performances of unit tracks such as "Darl+ing", "Crush", "Left & Right", "Back it up", "Imperfect love", and "Moonwalker". The band also performed "Very Nice" and "Snap Shoot" for the finale.
The band delivered a heartfelt message to the fans as they wrapped up the show. The fandom had definitely waited a long time for their comeback on live stage. Woozi, the group's vocal unit leader and producer, said that the members woke up with every part of their bodies aching after the first day of concert, however they followed it up by dancing even harder on the second day as the fans are their source of energy.
HOSHI, the performance unit leader of the team, said that throughout the two days of the concert the members ran at full throttle for the set as they wanted to show what a performance actually is to everyone.
Later on Sunday, after SEVENTEEN wrapped up the concert, the members took to their social media to share backstage photos with Jungkook and NCT's Yangyang, Hendery, Xiaojun, Kun, Chenle, and Renjun, while thanking them for attending.
Meanwhile, Jungkook, MONSTA X's Hyungwon, and Lee Soo Hyuk took to Instagram Stories before the show to cheer for Sevnteen sharing photos and snippets from the concert.