Celebrity
BTS Speaks At White House Ahead Of Meeting President Biden, Thanks ARMY For Making Such A Feat Possible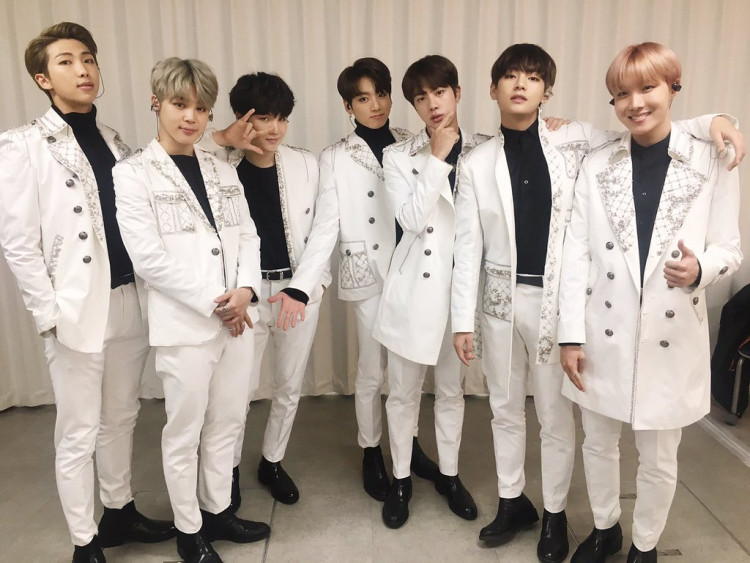 Kings of K-pop BTS joined White House press secretary Karine Jean-Pierre on Tuesday during the daily briefing at the White House. The seven members of the band made a guest appearance at the press briefing ahead of meeting US President Joe Biden at the Oval Office.
All the members, including V, Jungkook, Jimin, Jin, SUGA, J-Hope, and RM looked uniformly handsome and dashing in matching black suits worn with a white shirt and black tie.
Karine Jean-Pierre came to the podium with BTS and introduced them saying that though many of those in attendance knew them as Grammy-nominated icons, the band also played an important role as youth ambassadors who promote messages of respect and positivity.
Band leader RM took over the mic introducing the band as BTS. He said it was a great honor to be invited to the White House for discussing the important issues of hate crimes against Asians, Asian inclusion, and diversity.
Next Jin came to the stand and said that it was the last day of the AANHPI Heritage month and that BTS had come to the White House for standing with the AANHPI community and celebrate.
Jimin said they were devasted by the recent spike in hate crime, including Asian-American hate crimes, and wanted to put a stop to this, support the cause and take the opportunity to voice themselves.
J-Hope stated they were at the said platform thanks to their worldwide fans, the ARMY, who are from different nationalities, and cultures, and use different languages. He also said that BTS is truly and always grateful to its fans.
Jungkook added that they still feel surprised that music created by South Korean artists reaches so many people worldwide, transcending cultural barriers and languages. He shared that the band believes music is always a wonderful and amazing unifier of all things.
SUGA said it is not wrong to be different and equality starts when everyone opens up and embraces all their differences.
V mentioned that everyone has their own history and the band hoped that today was one step forward to understanding and respecting each and everyone as a valuable person.
Namjoon rounded off the talk by thanking President Biden and the White House for giving them this important opportunity to speak about the important causes reminding them about what they can do as artists.
The Bangtan Boys did not take questions and left the briefing room around 10 minutes from when the presentation started.
Watch the full video here.