Celebrity
BTS Creates History By Winning 'Global Recording Artist of the Year' For Two Consecutive Years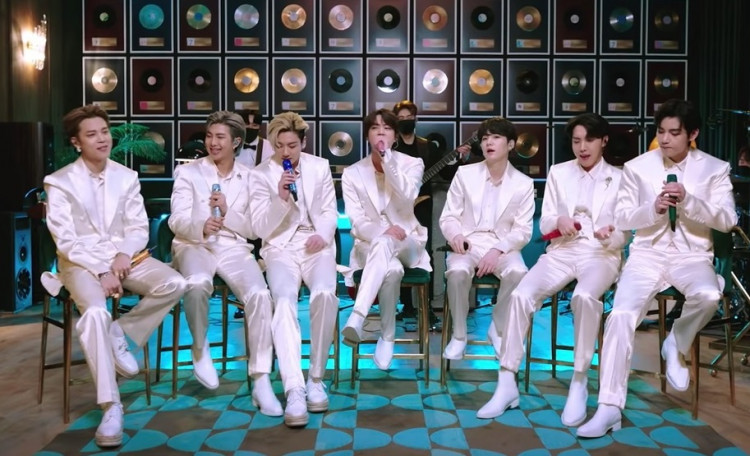 Mega popular K-pop group BTS was named 2021's Global Recording Artist of the Year by the International Federation of the Phonographic Industry (IFPI). It is a music industry body, which is a non-profit organization representing the global recording music industry.
IFPI's yearly Global Recording Artist of the Year gives recognition to an act's global popularity across physical and digital music formats (from vinyl to streaming), covering their whole collection of work.
Last year, the South Korean boys' band made history by becoming the first Asian act to bag the IFPI Global Recording Artist of the Year Award. The Bangtan Boys have now won the prestigious distinction for the second consecutive year.
They are now the only acts to earn the coveted award twice consecutively. Drake and Taylor Swift have also won this award twice, however, both did not win the two awards in consecutive years.
IFPI took to their official Twitter handle to announce the news. The K-pop kings overtook names such as Adele, Drake, Taylor Swift. Ed Sheeran, Justin Bieber, The Weeknd, Billie Eilish, Olivia Rodrigo, and SEVENTEEN to bag the first spot.
IFPI chief executive Frances Moore stated that the phenomenal success of BTS over the last year is a testament to their ongoing commitment, hard work, and creativity to continuing to find ways to bring their music to the world. He added that the band performs in three different languages that showcase their spectacular and unique appeal worldwide. Also, the passionate and dynamic fanbase of the band has helped BTS become the first artists to earn the coveted No. 1 spot on the Global Artist Chart for two years in a row.
The chief executive also congratulated Jung Kook, V, Jimin, J-Hope, SUGA, Jin, and RM and who are a part of their huge team on another year of brilliant success.
Meanwhile, the 2021 global recording artist of the year award came after BTS earned three No. 1 hits, for "My Universe", "Permission to Dance", and "Butter". Each song peaked at No. 1 on the chart, and "Butter" spent 10 of its 20 charting weeks on the No. 1 position.
The Bangtan Boys are now gearing up for two "Permission to Dance on Stage" concerts/One is going to take place in Seoul, the capital city of their home country and the other will be in Las Vegas, US.