Celebrity
BTS: Jimin Confesses They Would Get Greedy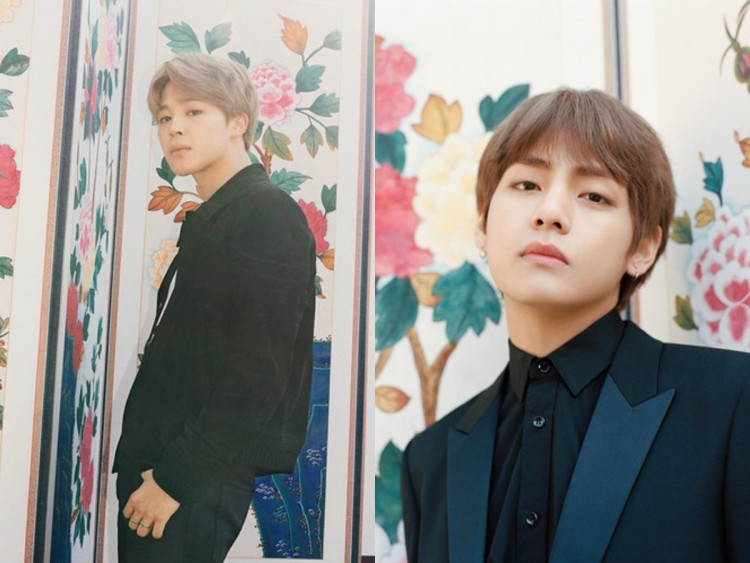 In the latest Bangtan TV Bomb, BTS members V and Jimin are seen in a hilarious situation while engaging in on-sets shenanigans while being captured by the camera.
During the clip, Jimin disclosed that the BTS members used to get greedy and wanted to show more of themselves via behind-the-scene anecdotes and shenanigans to fans during their debut.
The video starts with both the heartthrobs doing a quick workout before shooting for the song "Butter". However, what is most interesting and funny is the fact that they don't use regular weights to do arm workouts. Rather, they both lift the same chair, above their head in repetitions, to do their upper arm and shoulder exercises, all the while fully dressed in the outfit in which they are shooting for the song.
In the video, V is wearing a white shirt with a black waistcoat, black trousers, and a tie, while Jimin is in a black suit worn with a white shirt.
The clip starts with V leading the warm-up before Jimin takes the chair and does the same move. However, V gives instructions to Mochi to do the exercise correctly telling him to straighten his arms. But Jimin replies that he cannot lift his arms higher because of his jacket. So, that is his limit. Then both the K-pop idols take turns to do the same exercise with one move each, whilst sharing the chair.
Later on, the duo takes a stroll down memory lane as they recollect the time when BTS made its debut. Jimin came close to the camera to whisper that they now had only one last shooting left, and then he slowly turns to see V peeping into the camera behind him.
TaeTae asks Mochi what is he doing, and if it's fun. Jimin replies that this is what they used to do when they first debuted, and they used to do it a lot because they would get greedy and wanted to show more for their fans.
Jimin then went to explain, while looking straight at the camera, they were talking like this quite a while after he and V got together for a close-up interview. He also disclosed that V used to do it a lot, and V agreed that he used to say things like that.
The Bangtan TV video was titled "95z Having Fun - BTS", where 95z is a term used to refer to the BTS members who were born in 1995.