Movies
BTS's Webtoon '7 Fates: Chakho' Soundtrack Produced By Suga, Vocals By Jungkook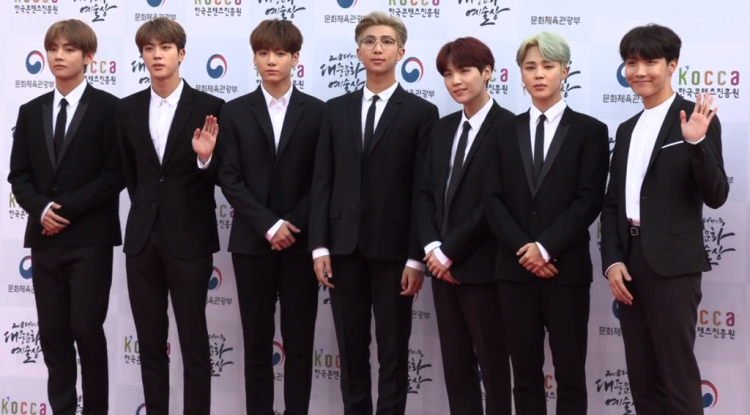 South Korean entertainment company HYBE Label, which manages BTS, has announced that the Bangtan Boys' upcoming webtoon "7 Fates" Chakho" will be produced by band member Suga, with vocals by the maknae of the group Jungkook.
The webtoon will be an action-thriller revolving around a story about seven fates, where the lead character Beom is bent on getting revenge for losing his loved ones.
HYBE also put up a poster, which stated that the hunt begins in a world of horrors. "7 Fates: Chakho" is slated for release on January 15.
HYBE released seven teasers of the webtoon during the December holiday season in 2021, featuring each of the BTS members, namely V, Jungkook, Jimin, Jin, Suga, J-Hope, and RM.
In the teaser featuring Jungkook, the maknae of the group is seen dressed in a purple co-ord set, with a vibrant shirt, while he walks towards something, which reflects green light on him, but is not seen on the screen.
In V's teaser, the K-pop idol is shown driving a car and accelerating towards the source of the green light.
In the teaser with RM, the leader of BTS is seen riding a bicycle in a tunnel, first trying to escape the green light, and then looking at it.
In Jimin's teaser, the singer is seen relaxing on a sofa with his eyes closed, holding a mobile phone. The green light is shown zooming on him.
J-Hope's teaser episode features him in a hooded, white track lounge set, chilling in a room when the green light approaches from behind.
Suga's teaser episode starts with a close-shot of a table fan and pans onto the singer, who is dressed in a red upper with traditional prints and is seen sitting on a sofa doing something on his mobile phone. It is then that the green light focuses on him from the side.
In the clip with Jin, the artist is seen in a grey suit paired with a white T-Shirt, walking down an empty corridor when the green light focuses on him.
In all the seven trailers, the green light seems to be the mainstay, and its origin/source is a mystery, which might be a focus of the plot of the webtoon.
Previously, HYBE had also released a new type of promotional material for the webtoon, in the form of CCTV footage of seven different settings, and it is these settings in which each of the seven BTS members were seen in their respective teaser clips that were released later.
For now, the excitement is building up for the release of "7 Fates: Chakho".