Music
Aespa Takes Hilarious Tour Of New York City On 'The Daily Show With Trevor Noah'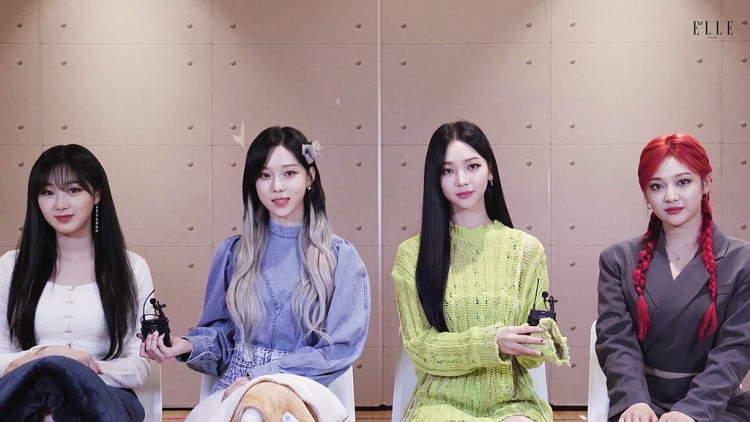 K-pop girls' band aespa recently took a very special New York tour on "The Daily Show with Trevor Noah". The four members appeared for the first time on the late-night US comedy show, which talks about American economics and politics from a humorous angle.
The quartet filmed a special segment for the program, which has now finally been aired, while they were in New York last month to perform at the 2021 Macy's Thanksgiving Day Parade. Incidentally, aespa is the first K-pop girls' group to have the honor of participating in this parade.
In the show, aespa is seen being given a comic tour of New York by correspondent Roy Wood. aespa members Karina, Ningning, Winter, and Giselle wore puffy jackets and blankets as they sat on the top level of a tour bus to film the segment.
The tour bus drove on Madison Avenue, where the girls saw the Givenchy store and informed Wood that they all were wearing everything from Givenchy at that moment. aespa are the brand ambassadors for Givenchy.
The bus also toured Times Square, which the four said was a shiny new city. They also went past the Broadway theatre. At Madison Avenue, Giselle also gave a shoutout saying hi to Blair, in reference to where Blair Waldorf from "Gossip Girl" might live.
The band ended the tour by doing karaoke. All the four girls looked horrified when Wood broke out into a rendition of "Don't Stop Believing". The aespa members also promised to show Wood around Seoul someday.
The successful group aespa released their six-song Extended Playlist "Savage" in early October. Within the first 15 days of its release, the EP sold. According to Forbes, it became one of the most successful releases by a K-pop girl group in the history of the US. Wood also had to sit down when he heard that one of aespa's videos had received 100 million views.
Meanwhile "Savage" re-entered the Billboard 200 at No. 85 for the week ending on December 11, making aespa only the fourth K-pop girl band in history ever to chart an album for over one week.
Previously, the feat has only been achieved by BLACKPINK for "THE ALBUM" and "Kill This Love", followed by TWICE for "Formula of Love: O+T=<3" and "Taste Of Love", and finally by ITZY for "CRAZY IN LOVE".