Celebrity
BTS, Coldplay Once Again Excite Fans With New Teaser For 'My Universe'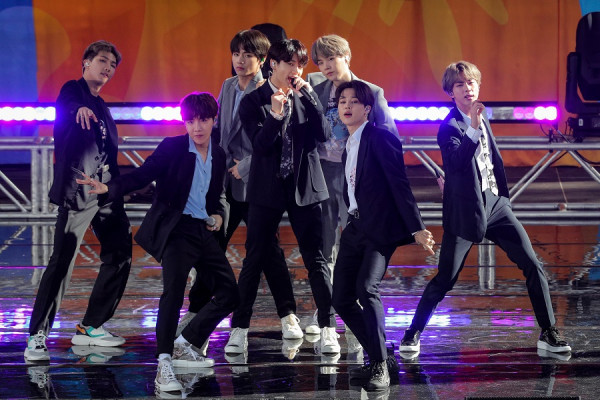 Fans are now looking forward to finally hearing Coldplay and BTS's collaboration song "My Universe." As the international band once again drops a new teaser to this music, it perfectly hypes up the project more.
The new clip shows a visualizer and some excerpts from the song's lyrics. As early as now, both BTS and Coldplay's supporters could not help themselves but get too excited for this new song.
According to Koreaboo, the ARMY believes the featured font in the clip looks like RM's handwriting. The lyrics seem to refer to a couple who cannot be together because they come from different sides.
By the looks of it, this is another love song from the two bands that have been loved by many. In fact, Chris Martin himself earlier teased on the "Kelly Clarkson Show" that the song was about "crossing boundaries for love."
Alternatively, the visualizer is believed to be part of the lyric video that will be out along with the song's release on Friday, Sept. 24. Meanwhile, this is not the first time that a new teaser has been dropped to excite the fans more.
"And they said that we can't be together..."#MyUniverse // Coldplay X BTS // Out Friday // https://t.co/yAcfYWIFgh // // @BTS_twt @bts_bighit pic.twitter.com/pdu4ss7bOs - Coldplay (@coldplay) September 21, 2021
In the earlier released clips, RM, Jin, Suga, J-Hope, Jimin, V and Jungkook could be seen jamming out with Martin, Jonny Buckland, Guy Berryman and Will Champion. An extended version of the song's Korean lyrics was even revealed on TikTok.
Soompi noted that "My Universe" is composed and written by both BTS and Coldplay and produced by the famed hitmaker Max Martin. It features both English and Korean languages and will be available as a limited-edition two-track CD single, featuring the main track and its instrumental version. The inside cover also features the handwritten lyrics by the two groups.
Meanwhile, before the rumors about Coldplay and BTS's music collaboration emerged, the latter first sang the award-winning band's 2005 hit single "Fix You" on "MTV Unplugged" in February, per NME. The "Yellow" hitmaker noticed the K-pop idols' rendition of their song and said it was "beautiful."
In a tweet, it wrote the Korean word for beautiful and signed off with the initials of their names, "c, g, w and j." To recall, RM, Jimin, Jin, Suga, Jungkook, V and J-Hope surprised everyone when they sang their own version of "Fix You" on a televised acoustic session, saying it "gave them comfort."From here, they decided to sing their own cover of it to give comfort to their fans as well.