Celebrity
BTS Beats Coldplay As 'Most-Streamed Group Of All Time' On Spotify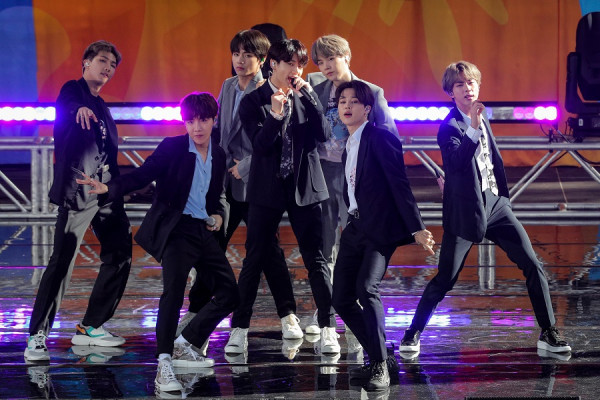 BTS has achieved another feat by becoming the "most streamed group of all time" on the Spotify streaming platform.
According to the Guinness World Records, BTS has recently racked up a total of 16.3 billion plays on Spotify for all of its song releases. As a result, they have beaten Coldplay's previous record, which was at 16.1 billion streams or plays. They've also beaten Imagine Dragon, which has a total of 15.7 billion streams.
The biggest BTS song on Spotify is still "Dynamite," the band's first all-English hit, which was released in the summer of 2020. However, the group's new single, "Butter," is also climbing the ranks fast and even breaking the previous records of "Dynamite."
According to Forbes, what makes this achievement even more astounding is that Spotify just launched in South Korea "fairly recently," which means that their numbers could still increase as more South Koreans discover Spotify.
The BTS boys -- RM, Jin, Suga, Jimin, J-Hope, V, and Jungkook - are definitely striking the iron while it's hot. They are already preparing for their virtual concert in June to mark their eight years in the music business.
The boys said that they cannot wait to return to live concerts again, once the pandemic is more controlled, to showcase new ideas where they could create another spectacle on the stage. The boys were supposed to embark on a world tour in the summer of 2020 but the pandemic happened.
Currently, the septet is staying put in South Korea due to the travel restrictions and they have embraced this chance to find more ways to get creative. J-Hope said that he's been trying to create more mature music while Suga is doing a few projects himself. V is also learning to make music from scratch and coming up with his own materials and ideas.
In between their work as a group and as individuals, BTS has also been appearing at various shows, albeit virtually. The boys were guests at the Friends Reunion and spoke for less than 12 seconds to say that they are big fans of the 1990s series. Regardless of their brief screen time, the ARMY appreciated that they were featured in such a major American TV show.
This month, BTS is also debuting their latest merchandise partnership with another major company, McDonald's. According to the fast-food chain's marketing officer Morgan Flatley, they chose the group because they are "a global phenomenon" with a passionate and loyal fanbase. The partnership will be rolling out in 50 countries.