Music
BTS Learns English From 'Friends,' Announces Upcoming Event '2021 MUSTER Sowozoo'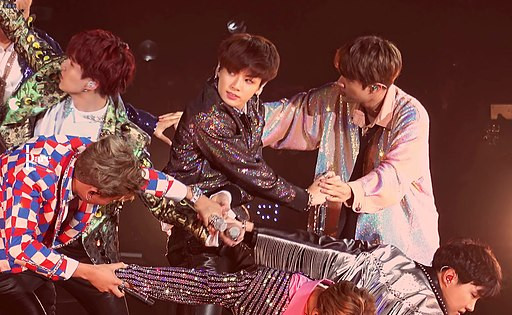 BTS have announced their plans for their eighth anniversary with their fandom ARMY. It will be an epic live stream event called 'BTS 2021 Muster Sowozoo.'
BTS 2021 Muster Sowozoo, also known as Mikrokosmos, is the yearly celebration of the band. The title comes from the Bangtan Boys' third track in their sixth mini-album, 'Map of the Soul: Persona.'
The band members also revealed an intergalactic aesthetic poster, teasing the upcoming event 'Sowozoo,' which features all the members standing together and holding the various planets of the solar system on strings like balloons.
BTS definitely has good communication skills, especially when it comes to speaking English. They are definitely thankful to 'Friends' as most of them watched it during their younger years and that's how they learned the language!
Every year, the South Korean superstars BTS will have a broadcast where they interact with their fans, play games, eat amazing food, and have a fun time.
Each muster has a theme, in the year 2019 being themed after their song 'Magic Shop' and their 2018 4th muster being themed on 'Mikrokosmos.'
Since there was no Muster last year, BTS chose to stream their shows for fans over a two-day free streaming event.
The concert dates were revealed. Day one will start at 6:30 PM KST (5:30 AM EST), June 13, 2021, Sunday.
On the first day, the group will hold a live performance of songs from their back catalog.
Day two begins at 6:30 PM KST (5:30 AM EST), June 14, 2021, Monday. The band will hold World Tour Version. In this, BTS will perform some of their foreign songs.
All tickets will be on sale starting from May 26, at noon KST, Wednesday, and will be available on the Weverse Shop.
After purchasing your ticket on Weverse Shop, you can watch the event on a separate live streaming page by logging in with your Weverse Shop account.
The boy band group spends time with their fans during their debut and also to celebrate how far they have come.
BTS are seven precious humans who adore and love each other more than the world. They always show love to their members.
According to Koreaboo, the group recently released behind-the-scenes footage from the filming of their latest music video for their track 'Butter,' showing that the BTS members were their fanboys during the 'Butter' shooting sketch.