Music
IU Praises Oh My Girl And 'Kingdom' Contestants' Cover Of Her Songs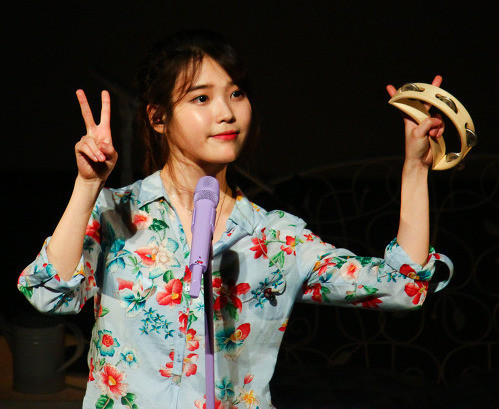 The Nation's Little Sister, IU, has shown love to junior artists that made a cover of her songs. On May 20, a broadcast of the "Weekly Idol," a South Korean variety show, Oh My Girl appeared as guests and performed a cover of IU's "dlwlrma."
'dlwlrma' is the 1st track in IU's Korean studio album Palette, and it was released on April 21, 2017. After seeing the cover, IU posted a snippet onto her Instagram Story. She tagged the girl group and added it with a caption, "They're all good... it is just right..."
According to Soompi, she also added the lyrics from Oh My Girl's latest song, "Dun Dun Dance," and she shared, "To be honest, I wrote the lyrics to 'dlwlrma' in the past with Oh My Girl in mind as the models. I feel good because it suits you as well as I thought. Thank you. After this, Mimi adds a rap, and it is very good, so make sure you watch until the end."
On May 20, "Kingdom: Legendary War," the idol competition show has released a preview of the upcoming eighth episode. The clip starts with the host TVXQ's Changmin announcing that they are entering the final official round of competition before the program's live finale.
The new preview clips show uncut 45 seconds of some of the upcoming performances. For the first part, BTOB's Eunkwang, ATEEZ's Jongho, and Stray Kid's Seungmin performed an emotional rendition of IU's 'Love Poem.'
And a few hours later, after she posted a snippet in her Instagram Oh My Girls 'dlwlrma' performance, IU shared another snippet and a link of the 'love poem' performed on 'Kingdom: Legendary War.'
She added the captions, "Goosebumps..." and "Form start to finish, the harmony was so beautiful. You have to watch the full version."
The next episode of 'Kingdom: Legendary War' will air on May 27 at 7:50 p.m. KST.