Celebrity
BTS To Appear On Jennifer Aniston's 'Friends' Reunion Special On HBO Max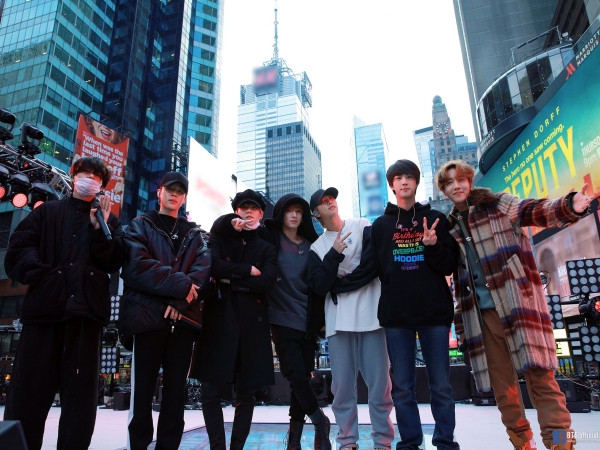 BTS surprised fans again with the reports of its appearance on Friends Reunion, a special that will bring back the 1990s popular American sitcom. This is a long-awaited premiere that was delayed several times already, and it got even more exciting with the reveal of the South Korean boy band's inclusion in the show.
According to Billboard, along with BTS, Justin Bieber, Lady Gaga and James Corden are also appearing on the program that will feature all the original cast members including Jennifer Aniston, Courteney Cox, Lisa Kudrow, Matt LeBlanc, Matthew Perry and David Schwimmer.
It was mentioned that the other big names who will be in the upcoming special as guests are David Beckham, Cindy Crawford, Kit Harrington, Tom Selleck, Reese Witherspoon, Cara Delevingne, Elliott Gould, Larry Hankin, Maggie Wheeler, Mindy Kaling, Thomas Lennon, Christina Pickles, James Michael Tyler, and Malala Yousafzai.
The Friends Reunion is an unscripted show, and it was not revealed what BTS would do for its appearance as one of the guests. At any rate, this is another history for the boy group as it has become the very first Kpop stars to appear in an American sitcom. The band's appearance is even more special because RM once said that he learned to speak English by watching Friends.
Meanwhile, the show that will reunite the six original cast led by Jennifer Aniston was supposed to premiere last year, but due to production shutdowns caused by the COVID-19 crisis, it was delayed a few times. The cast started filming in Los Angeles in early 2020 but apparently, did not finish as the pandemic struck.
Australia's ABC News reported that filming only resumed last month and finally, the cast and crew were able to complete it. Friends' final episode was aired in 2004, and for years, fans have been requesting it to be rebooted. It was only in 2019 when the cast members have gathered to plan their reunion.
It was said that for this project, all the six main actors were paid around $2.5 million, and this just showed how much interest the public still has in the comedy program. Finally, the Friends Reunion with BTS will begin streaming on HBO Max on May 27.