Music
EXO Comeback 2021: New Album To Arrive Soon, SM Entertainment Confirms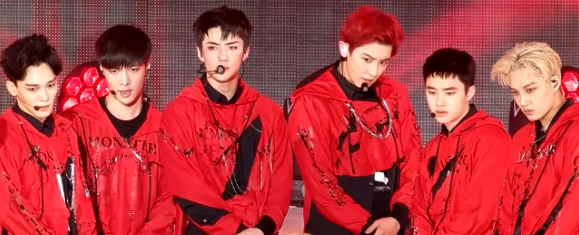 The members of EXO continue to surprise their fans these past few weeks. After the saddening news of Chanyeol's and Baekhyun's enlistment, both K-Pop idols gave their fandom treats upon releasing their respective music projects. But, it did not stop there as the K-Pop group confirmed their comeback this year.
Koreaboo reported that the six active members dropped teaser materials on Thursday to mark their ninth anniversary in the industry. Apart from their official posts on Twitter, they, also, released a "spoiler" video on YouTube titled, "L-1485."
In the four-minute clip, members D.O., Xiumin, Kai, Chanyeol, Baekhyun, and Sehun gave EXO-Ls a "peek" at their production set. They teased some parts of the music video as they showed the aircraft carrier in a giant green screen room.
D.O. showed some of the steps of the choreography, while a track plays in the background. Chanyeol, on the other hand, confirmed that the set features an "aircraft carrier in outer space."
The EXO members showed some mysterious markings, as well, printed on the set. They highlighted the "E-408" and "L-1485" tags on the ground, seemingly implying that these are "Easter eggs" to their upcoming comeback material. The six K-Pop idols, later on, revealed that it was D.O. and Xiumin who wished to do a comeback.
On the morning of the anniversary, SM Entertainment confirmed the comeback news. As stated, "EXO is preparing to release a new album in the first of this year."
Pinkvilla said that alongside the spoiler video, the group's post on Twitter appears to contain a "cryptic" message, as well. As described, the tweet comes with a "gif of an extraordinary EXO space cake," which many netizens speculate to be another hint at the theme of their upcoming music release.
So far, though, these are the only details that the group and their label have publicized about the imminent comeback. Nevertheless, more teasers and trailers will likely arrive in the next few weeks.
EXO's upcoming return is a follow-up to their sixth studio album, Obsession. They officially dropped the ten-track collection in November 2019.
It was the first album that the group did, wherein only six members participated. While Lay was in China for his solo promotions, D.O. and Xiumin were completing their mandatory military services.
The upcoming comeback album will still be promoted by six members of EXO. This time, though, Suho and Chen are the ones in the service, while Lay continues to work on his solo career outside South Korea. (Business TImes)