Celebrity
BTS Done Filming 'Let's BTS' Special With New Details 'Never Revealed Before'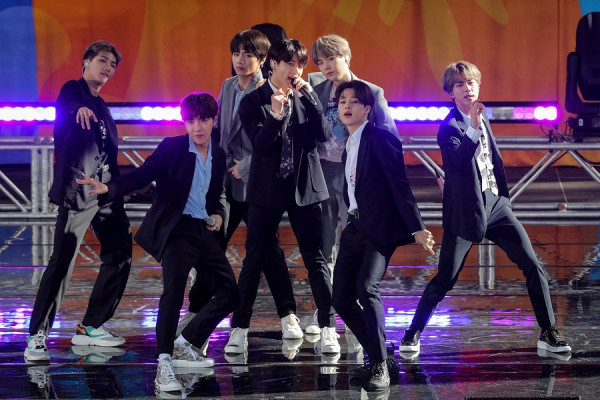 Following their monumental Grammy performance and their special appearance in a South Korean quiz show, BTS is set to reveal new details about themselves in the upcoming special interview, Let's BTS.
According to reports, the popular septet has finished filming the 100-minute interview, and it will air on KBS on March 29. One of the things BTS will discuss is their Grammy nomination and loss to Ariana Grande and Lady Gaga for Best Duo or Group.
Photos of the group during the filming of Let's BTS have gone viral on social media. Needless to say, the ARMY is overjoyed and looking forward to watching the interview, which has been deemed as another gift to the group's legions of fans.
According to KBS, Let's BTS was produced for fans still struggling with the pandemic. Incidentally, the Bangtan Boys will also talk about their own experiences during this most harrowing time in the world, amid the lockdowns. They will also reflect on how much their lives have changed since the group shot up to global fame.
The show will also include South Korean hosts and comedians Shin Dong-yup and Jang Do-yeon. Other local stars might also make special appearances, but KBS isn't revealing their identities.
It comes as Variety reported that BTS has boosted the music industry and led the global sales in the market for 2020. Per the data released by the International Federation of the Phonographic Industry (IFPI), BTS and the South Korean music market have managed to scale up to 44.8 percent in sales. BTS and Blackpink have also pushed streaming music up, although sales of physical discs and other music formats are also not falling behind.
According to BBC, the music industry managed to make over $21.6bn in sales in 2020, and it has been the highest after 18 years. Apart from BTS, whose Map of the Soul: 7 continues to rank in the sales charts, The Weeknd, Taylor Swift, and Billie Eilish has commanded the charts in recent weeks.
Meanwhile, BTS' hit song "Dynamite" is still in Top 100 in the latest Digital Song Sales chart at Billboard. The Grammy-nominated song was on the rise again for the week of March 27, reaching No. 34 after the group's performance on the awards show.
This is now the 30th week for "Dynamite" at the charts and BTS might soon beat another record. The only South Korean artist to stay this long at the Billboard Top 100 was PSY for "Gangnam Style" which was 31 weeks in the charts. (Business Times)