Celebrity
BTS Grammys Controversy Depicted In 'Violent', 'Insensitive' Illustration By Topps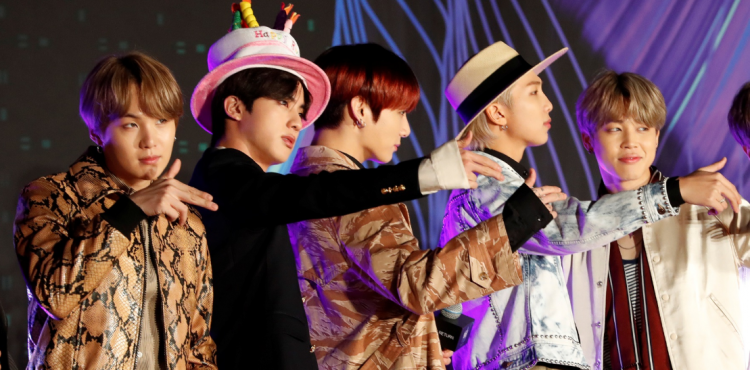 The controversies surrounding the Grammys and BTS continue to develop these past few days. Following the group's loss to Ariana Grande and Lady Gaga, several discussions and speculations have since emerged, slamming the institution for its questionable movements about the awarding ceremony.
As the criticisms remain apparent on various media platforms and channels, AllKpop released a report regarding a new issue related to the K-Pop group and the Grammys. As explained, netizens are now furious after trading card manufacturer Topps released a material, depicting the seven South Korean celebrities in a "violent" and "insensitive" manner.
The publication said that the manufacturer is popular for its collectible cards and stickers. However, their recently produced items sparked fury and anger among the ARMYs, as well as the rest of the Asian communities.
The reason being is that the card, featuring BTS, illustrates the seven K-Pop idols "being beaten with the Grammy trophy in a 'whack-a-mole' game." It, also, depicts the artists with bruises and cuts as they all "look up at the trophy in horror."
Reports said that the card is part of the "Garbage Pail Kids Shammy" series, wherein ten other collectible items featuring other artists are, also, depicted. The one that illustrates the BTS members came with a title, "Bopping K-Pop."
Following the release earlier this week, ARMYs and other Asian communities banded together on various social media platforms to call out Topps, alongside the "violent" item. They requested for the BTS-featured sticker card to be removed due to its insensitive and "intolerable" content.
Buzzfeed News released a similar report, detailing what happened and informing the public that Topps has since removed the sticker card in question from their products list. It, also, states that the card manufacturer, later on, released a formal statement to address the controversy.
On Twitter, the company assured that the material featuring the BTS members "had not been printed prior to the criticism," adding that it "would not be available for purchase." Topps, also, said that they "hear and understand" the consumers, especially those "who are upset about the portrayal of BTS" in the series.
Despite the published official statement, netizens are still furious about the issue. Several individuals, also, expressed their disappointments on the platform, noting that Topps was not able to acknowledge why the sticker card is problematic in the first place.
The same publication noted, though, that the card follows the controversial events that took place these past few days, with ARMYs accusing Grammys producers of "exploiting BTS and their huge reach for ratings." Apart from the shocking loss to the "Rain On Me" artists for this year's award in the Pop Duo/Group category, many seemingly believe that the Grammys relegated the K-Pop group's performance to the latter period of the award's night for better viewership records. (Business Times)