Music
BTS Members Revealed Their Favorite Workout Tracks, Playlists; K-Pop Idols' Fitness Routines Explained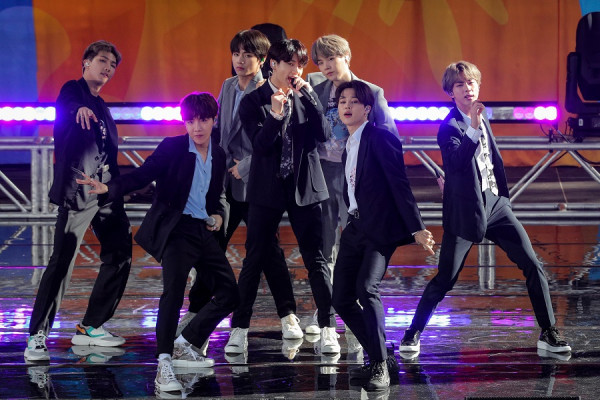 BTS will perform in the upcoming 63rd Annual Grammy Awards. The group will be one of the 22 artists who will showcase their talents and skills at the awarding ceremony, which will be on March 15.
Ahead of their highly anticipated performance, the septet talked about the stint, as well as what the audience can expect from them. But, aside from this, the K-Pop idols, also, revealed their favorite tracks, which they utilize for their workout sessions, according to Koreaboo.
Speaking to radio.com, the seven members immediately responded to the hosts' questions about the songs that they have on their workout playlist. J-Hope answered "straight away" and shouted "Bruno Mars."
The publication said that when the rest of the BTS members heard the "Grenade" singer's name, many of them started to dance. This caused several viewers to conclude that they all listen to Bruno Mars' songs during their workout sessions.
The group's leader, then, added that they, also, listen to Silk Sonic's new track, "Leave The Door Open'' when doing their fitness routines. RM revealed, as well, that Ariana Grande's latest album, Positions is the "perfect soundtrack for the treadmill." He explained that the singer's voice, including the tempo of the tracks, "is just amazing."
It is no secret that the seven members of BTS always follow their fitness and workout routines. However, most of them do not explicitly share what type of exercises they usually do in their sessions.
Cheat Sheet reported, though, that the maknae of the septet once unveiled his detailed exercises by showing a guide note from his smartphone. Jungkook, reportedly, does 20 squats, push-ups, mountain climbers, jumping squats, crunches, leg raises, and superman exercises. He, also, incorporates these sets with 15 burpees and ten planks.
While the rest of the group rarely show their routines before their fans and followers, their variety show episodes, at times, provide ideas as to how they maintain their fitness and health. There are materials, as well, featuring some of them spending time at the gym.
Many netizens, especially ARMYs, discuss the group members' workout and fitness routines, as well. In a thread on Quora, several individuals posted clips and photos of some of the BTS members doing their exercises.
The majority of the respondents asserted that Jungkook and Jimin are the most active ones in their band when it comes to fitness and health activities. Some pointed out, however, that their regular dance rehearsals are already enough for the members to maintain their fitness. (Business Times)