Celebrity
BTS Pranks: 'Maknae' Jungkook's Best Jokes, Revenges On His 'Hyungs' Revealed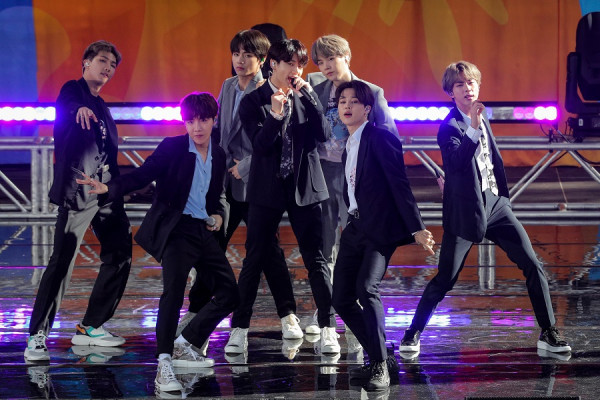 Pulling pranks has become a part of BTS' everyday life. The seven members almost always do jokes to one another, making their lives before their fans a lot more fun and adorable.
Among all the "DNA" singers, though, it appears that Jungkook is the most apparent member to pull pranks on his "hyungs." Koreaboo listed some of the best and most memorable jokes he pulled on his groupmates over the years.
In episodes 131 and 132 of Run BTS!, the maknae of the K-Pop group took his "revenge" prank while playing a game. At first, his hyungs decided to soak him wet and "purposefully" did it to have fun.
During the game, the seven members split into teams to debate different kinds of topics. There were forbidden words and actions in each round, and if they were said or done, the subjected members on the seat would get drenched with water.
After the rest of the hyungs of BTS pulled a prank on Jungkook, he took his revenge by finding out the forbidden actions. Upon realizing that touching the goggles would soak his groupmates to water, he kept on doing it to get back at them. He, also, continued to laugh until they were all soaking wet because of his act of revenge.
The publication, then, recalled one of Jungkook's funniest pranks in the past. As fans and followers would remember, Jin once asked the maknae to make him a cup of ramen, as well, in an episode of Burn The Stage.
When he gave Jin what he prepared, the oldest member of BTS thought that Jungkook put mushrooms on his cup. But, before eating the ramen, he realized that it was all chocolate balls.
They both ended up laughing as the joke was hilarious. J-Hope was, also, in it, and joined the two members as they all enjoy the funny moment.
While Jungkook almost always pulls pranks and acts of revenge jokes toward the rest of the members of BTS, his hyungs always try to get the best of him, as well. Netizens recalled the moment when the members pulled one on their maknae during his birthday.
As it happened, they made Jungkook feel stressed throughout their rehearsals, with many of them insisting that he could not get all the moves right. While feeling disappointed and shameful, the six members surprised him with a cake, causing him to cry.
Pranks among the members of BTS are nothing new in the eyes of the ARMYs. Koreaboo released a separate report, as well, about the matter, revealing some of the members' jokes and funny acts even during concerts. (Business Times)