Celebrity
BTS '2021 BTS Winter Package In Gangwon': Major Details You Need To Know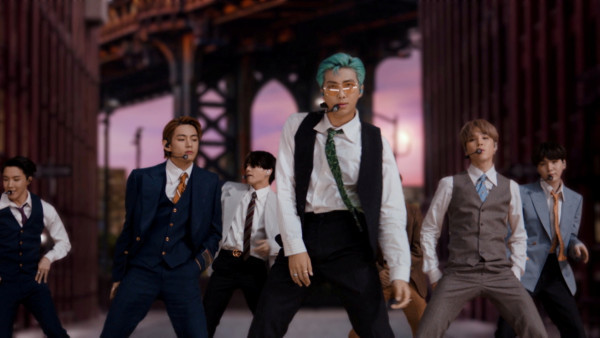 Some fans are now enjoying their BTS 2021 BTS Winter Package in Gangwon. Aside from the package, the bundle also features kid's drawings for a guessing game.
Of course, the 2021 BTS Winter Package in Gangwon includes all the merchandise fans have been waiting for. As its shipping comes near for the international fans, here are the other details about BTS's new treat coming your way.
The surprising identity of the kid behind Jimin's work of art
BTS usually doesn't reveal the identity of the kids behind the drawings. However, the young artist behind Jimin's work of art was introduced, Koreaboo noted.
The group couldn't help but praised the child for his incredible artistic talent. They even said his style was like of the famous artist Jean-Michel Basquiat.
So when Jimin learned the kid's drawing was an image of himself, he wanted to thank him, but he didn't know how. Little did he know that the kid in question was already related to them.
The artist is the son of the BTS and TXT's choreographer, Son Sung Deuk, named Moa. His wife posted a photo of their child who was behind Jimin's drawing. The kid called Jimin "uncle," which put everyone's heart in awe.
The Gangwon Do Shooting
Despite their busy schedules, conquering the universe with their songs, BTS managed to go to Gangwon Do for a photoshoot for the 2021 BTS Winter Package in Gangwon. It is a mountainous and forested province in the northeast of South Korea.
RM, Jin, Suga, J-Hope, Jimin, V, and Jungkook enjoyed a snow-therapy while wearing their oversized sweatshirts in a short preview. According to Pinkvilla, they also took part in different outdoor sports, like paragliding and other fun games, similar to the BTS Run-style.
The boys looked cool in their winter outfits, chic and dapper jackets, and black and grey overcoats. At the end of the clip, fans could hear Jimin, hoping to continue making good music that could be comforting many people.
Getting Fans' Hand On 2021 BTS Winter Package in Gangwon
Excited fans who want to take their hands on the 2021 BTS Winter Package in Gangwon can secure their copy on Weverse Shop. On the other hand, international fans can pre-order their package on the U.S. version of Weverse Shop for $52 and Global Weverse Shop. Shipping will start on April 7, per CheatSheet.
BTS's 2021 BTS Winter Package in Gangwon includes a photobook, DVD, photo set, photo box, mini-poster box, and a six-cut film photo. It also has a photocard and photo sticker that fans will surely love.
Have you bought the 2021 BTS Winter Package in Gangwon? How do you find it? Share your comments below. (Business Times)