Celebrity
MAMAMOO Hwasa Reveals Beyonce As Her Source Of Inspiration During Childhood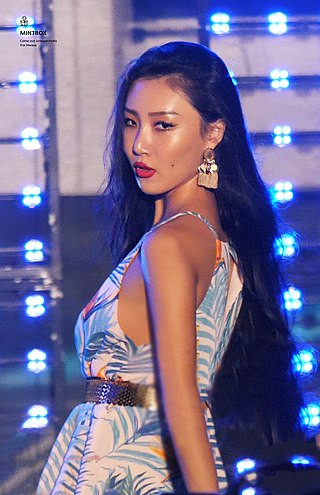 MAMAMOO's Hwasa talked about her childhood story, singing career, and personal details in W Korea's spread. The singer also spoke about Beyonce being her inspiration.
With her story being divided into three parts, Hwasa kicked-off sharing her childhood. The actress revealed having a low-income family status in the past. She also divulged that she was a bit shy back in the days, but she was still sure of what she wanted to do and was feisty.
Hwasa On Making Her Parents Happy
Hwasa went on to say that because her parents were busy working to support the family, she would come up with ways to get more of their affection and praise. She said that her desire when she was young is to show her parents the good side. And as she started hearing, "You're good," she began to find the fun in it.
"Even at home, I would put on a show by myself. I would sing, dance in front of the mirror, impersonate someone, and imitate lines from movies," she added.
At around middle school, the artist started honing in on her dream to become a singer. She testified that all the criticism and failures she went through then proved certain factors of motivation.
The MAMAMOO member also shared that she found inspiration in Beyoncé. After hearing someone say that she is unique and good at singing but is fat and not pretty, she went home and watched videos of Beyoncé performing all night.
Hwasa's Music Career Highlight
In the second chapter of Hwasa's story, she opened up about how her uncle's passing had a significant impact on her as an artist and how she performs on stage. The singer revealed that she turned her uncle's phone once and she discovered that it was filled with her songs, the guides she recorded when she was a trainee, and her photos.
Furthermore, Hwasa details the 2018 Mnet Asian Music Awards as the highlight of her music career. She said that the event was the most thrilling and cathartic experience she ever had, explaining that she had already felt like she had lived her best moment even before finding out that the performance would receive so much attention.
Regarding her weaknesses, Hwasa shared that she loves to dance but is not naturally very good at it. She works hard to practice enough to make each movement her own since she gets frustrated over herself. Hwasa also commented that her solo song Maria is the best representation of who she is.
Hwasa then opened up about various personal details in her final chapter. She said that she is just like an unemployed neighbor. "I usually don't dress up. I think, if I'm comfortable, that's what's cool."