Celebrity
BTS's 'Blue & Grey' Co-Producer NIve Issues Apology To ARMYs After Sparking Controversy With V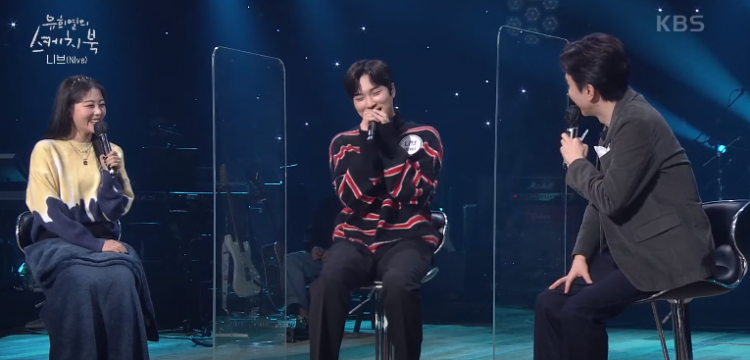 NIve appeared on the recent episode of Yoo Hee Yeol's Sketchbook, where BTS ARMYs spotted an unusual sight of him tagged as the composer of Blue & Grey, a song BTS V wrote.
NIve's remarks on writing Blue & Grey
Soompi reported that NIve is the guest of the KBS 2TV's music talk show on its January 8 (Friday) broadcast, where the host, Yoo He Yeol, opened up about NIve's impressive work as a producer.
The host kicked off the topic by saying NIve has worked with famous artists like Paul HYNN, Sam Kim, EXO, Park Bo Gum, and the Grammy-nominated band BTS. He then asked, "How did you end up working with BTS?"
NIve then quickly explained that he connected with BTS V through their mutual friend Paul Kim. He got the chance to co-wrote and co-produced BE's B-side track called Blue & Grey. He was also credited under the album with the name Park Ji Soo.
Since V and hi met, they have written multiple songs together, ending Blue & Grey to be released as a piece of BE, BTS's latest album. "We ended up working on the song together by chance," he added.
What made the ARMYs enraged?
When the host called NIve as the original composer of the song and did not correct him, it made BTS's beloved fans mad. The music was previously shared by V that he wrote it when he was through tough times in his life and is supposed to be a part of his mixtape.
The case led NIve to issue an apology to the disturbed ARMYs. His apology statement was released on His Instagram Story, aiming to clear the misunderstanding that concerns his recent interview about the song.
In his apology statement, he said it has never been his intention to cause such trouble within the band and its fans, as Blue & Grey will always be the result of the collaborative effort of Suga, V, J-hope, RM, and more.