Music
BTS Shines Brighter than Ever in Their 10th Anniversary Amidst 'Military Hiatus' Break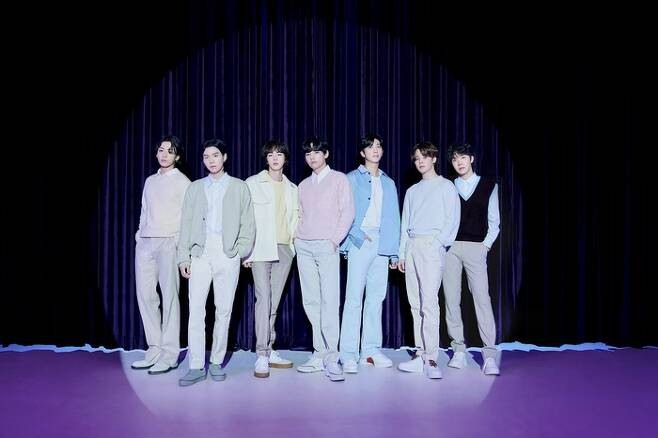 Even during their 'Military Hiatus' - a term used to denote the period when South Korean celebrities serve their mandatory military service - BTS, the globally beloved K-pop group, is shining brighter than ever.
As BTS marks their 10th anniversary since debuting on June 13, 2013, the world is buzzing with excitement. From their initial stage, they have evolved into the '21st Century Pop Icons' in the span of a decade, setting new records in the global music industry.
To commemorate their journey to superstardom, not only BTS but their management company HYBE and several other corporations and public institutions are taking part in the celebrations. While the group's complete activities are temporarily on hold due to Jin and J-Hope's enlistment in the military, a series of events are being held to celebrate BTS' 'Birthday Week', making their 10th anniversary a grand affair.
Kicking things off, BTS released their 10th-anniversary single, 'Take Two', on June 9. Co-produced by Suga, and featuring contributions from RM and J-Hope, 'Take Two' signifies the path BTS will continue to walk. It expresses gratitude to the fans who have been with them through every moment so far and promises to walk together in the future.
Upon release, 'Take Two' instantly topped the 'Daily Top Song Global' chart on Spotify US, 'Daily Digital Single Ranking' on Japan's Oricon, and iTunes 'Top Song' chart in 92 countries/regions, demonstrating global fans' fervent response.
The '2023 BTS FESTA (FESTA)' will take place in Seoul's Yeouido on the 17th. The festival will feature a 'BTS History Wall', stage costume exhibition, commemorative sculptures, fireworks, and other displays and experiential programs. Through '5 PM, This is Kim Namjoon', RM will personally attend the FESTA and meet fans, making the occasion even more special.
As part of the FESTA, HYBE is teaming up with Seoul City to bathe the entire city in purple light. From June 12 to 25, after sunset, landmarks like City Hall, Namsan Tower, DDP, Sebit Island, and others will be lit up in purple. Buildings like Sejong Center for the Performing Arts, Sebit Island, and Namsan Seoul Tower will screen videos featuring BTS. 'Gwanghwamun Book Festival' and 'Seoul Square Reading Books', two of Seoul's representative cultural events, will also be decorated in purple from the 15th to the 18th.
Furthermore, Seoul City has produced a 'Seoul BTS Tour' map with the Seoul Tourism Foundation. It features places frequently visited by the members during their trainee days and notable locations from their self-produced content like 'Run BTS!'. To add more fun, BTS songs and videos related to each location are provided via QR codes on the map.
In a first for a current artist, commemorative stamps were issued. The Ministry of Science and ICT's Postal Service Headquarters began selling stamps on the 13th, capturing BTS's 10-year history. Due to regulations, living individuals, except for some exceptions like presidents or those who have contributed to national prestige, cannot be included in the design, so album cover images were used instead of members' faces. Despite this, the 120,000 sheets of 10 stamps each sold out within three hours of online pre-sales on May 22, and offline purchases are also expected to be hot.
FESTA's official partner companies are also going all out with BTS marketing. 'Noted Donuts' and 'Curly' are among those offering BTS-related commemorative products through pop-up stores and exhibitions, joining in the 10th-anniversary celebrations.